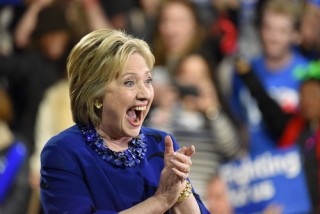 If the behavior of the Republicans in the House Oversight Committee is any indication, then they think that Hillary Clinton will be the next President of the United States. And when that happens, according to a new report from the Washington Post, the House Oversight Committee, led by Rep. Jason Chaffetz (R-Utah) will be ready to begin a years-long investigation into Clinton and her various alleged misdeeds.
"It's a target-rich environment," Chaffetz told the Post. "Even before we get to Day One, we've got two years worth of material already lined up. She has four years of history at the State Department, and it ain't good." If the Republicans take the House, Clinton would be the first new president to face an Oversight Committee controlled by the opposing party since George H.W. Bush in 1989.
House Speaker Paul Ryan also issued this statement:
The rigorous oversight conducted by House Republicans has already brought to light troubling developments in the Clinton email scandal. The speaker supports [the Oversight Committee's] investigative efforts following where the evidence leads, especially where it shows the need for changes in the law.
Rep. Jim Jordan (R-Ohio) believes that Clinton might have committed perjury during the Benghazi hearings and wants to explore that avenue of investigation. As for what Chaffetz had in mind?
She's not getting a clean slate. It's not like the State Department was bending over backwards to help us understand what was going on. We've got document destruction. We've got their own rogue system. We've got classified information out the door. We've got their foundation doing who knows what. I mean, it took them four years just to release her schedule.
Rep. Elijah Cummings (D-Maryland) countered with this statement:
Republicans are pretending like they haven't been investigating Secretary Clinton for years ever since she announced that she was running for president, including everything from Benghazi to emails to the Clinton Foundation. It's no exaggeration to say that on the first day Secretary Clinton walks into the White House, Republicans will have already investigated her more than any other president in history.
[Photo: Shutterstock]
Have a tip we should know? [email protected]