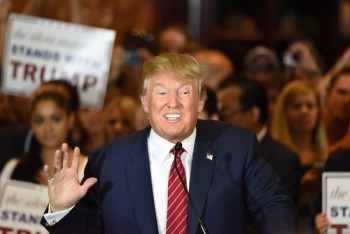 When Donald Trump threatened to sue Ted Cruz over his eligibility for the presidency, many legal scholars believed, he, at the very least, had a legal argument. Maybe not a good one, but "natural born" has never been defined by the U.S. Supreme Court so there was something to go on. However, Donald Trump's latest threat to file a defamation lawsuit against Ted Cruz over his political ads appears to be entirely without any legal basis whatsoever. Cruz said Wednesday that Trump's attorneys sent him a cease and desist order threatening "to seek immediate legal action to prevent the broadcast of this ad." Cruz even quipped that any lawsuit would result in Trump being sanctioned by a judge for filing a frivolous lawsuit. He's not far off. Trump's legal claim here is beyond a stretch of the imagination for many reasons.
Floyd Abrams, the well-known First Amendment attorney (also the father of LawNewz.com's founder Dan Abrams) tells LawNewz:
"Mr. Trump's threatened lawsuit against Senator Cruz is ridiculous, absurd, laughable. Senator Cruz's speech is First Amendment protected as his opinion based upon the very tape contained in the advertisement. It is First Amendment protected since there is no conceivable way Mr. Trump can prove it was prepared with actual malice—i.e., actual knowledge of falsity or with serious doubts as to truth or falsity,"
Defamation lawsuits are particularly hard to win when filed about public officials or people who otherwise well known– because as Mr. Abrams pointed out – Trump would have to prove what is called "actual malice" or basically knowledge of falsity. Not to bore you, but that legal standard drives from the landmark U.S. Supreme Court decision New York Times v. Sullivan. The case involved a full-page ad in the New York Times soliciting funds following the arrest of  Martin Luther King Jr. for perjury. The court found that the First Amendment protects the publication of all statements — even false ones– when it relates to the conduct of public officials. The only exception is if the plaintiff can prove actual malice (aka that the person knew or should have known the statements were false). That's a steep hill to climb.  If we look at Cruz's ad (see below), while it may very well be taking Trump's words out of context, they are still his words. Trump said them.

"It is protected because no court would permit one candidate for the presidency to prevail against another for a political attack voiced mid-campaign against another in virtually any circumstance, let alone one rooted in a statement actually made by the suing candidate," Abrams said.
Ted Cruz read aloud Trump's threat letter and fired back at an afternoon press conference.
"To Mr. Trump, you have been threatening frivolous lawsuits for your entire adult lawsuits, even in the annals of frivolous lawsuits, this takes the cake," Cruz said.
But, as we documented on Tuesday, Donald Trump is no novice on the courtroom docket, he's been named in at least 169 different federal lawsuits (that's not counting all of the cases likely filed in state courts across the country).  So, Trump may file the lawsuit, and it would almost certainly be thrown out.
Here is the video from the Cruz's press conference:
Have a tip we should know? [email protected]
Rachel Stockman - President / On Air Host