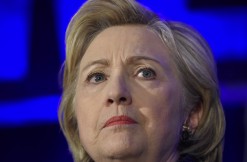 Democratic presidential candidate and former Secretary of State Hillary Clinton told The Today Show on Tuesday that European security measures weren't up to American standards.
Her comment comes after explosions ripped through an airport and subway station in Brussels, Belgium. At least 34 have been killed, and 170 injured. No one, including the terrorist organization ISIS, has publicly taken credit for the attack as of yet, though the airport explosion was reportedly due to a suicide bomber.
Clinton's critiques of European security came when asked what she'd do if she were president. She said the other nations were reluctant to follow America's example.
"We've got to tighten our security," Clinton said. "I've talked about our visa system, and a passenger name record system. When I was Secretary of State, we often had some difficulties with our European friends because they were reluctant to impose the kind of strict standards we were looking for."
Nonetheless, she believes the 2015 Paris Terror Attacks, in which ISIS terrorists killed at least 130 people, started to change their attitudes.
You can hear her speak here.
"It's unrealistic to say we're going to completely shut down our borders" –@HillaryClinton on TODAY #Brussels https://t.co/Lgst4hZzPo

— TODAY (@TODAYshow) March 22, 2016
Belgium's nationwide threat level is at four—its highest. The blasts come only days after authorities captured the ringleader of the Paris attacks, Salah Abdeslam, in Brussels.
Clinton is the front-runner for the Democratic Party nomination for president. She served as Secretary of State in the Obama Administration from 2009 to 2013.
[image via Shutterstock]
–
Follow Alberto Luperon on Twitter (@Alberto Luperon)
Have a tip we should know? [email protected]