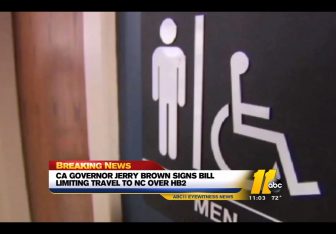 California Governor Jerry Brown signed a new bill into law on Tuesday that prohibits state agencies from requiring employees to travel to states with laws that limit access to facilities based on sexual orientation or gender identity.
The Sacramento Bee reports the new law not only applies to government agencies, but it also applies University of California and the California State University system.  Accordingly, the bill may impact travel of some college athletic teams.
WATCH:
"Our zero-tolerance policy says there is no room for discrimination of any kind in California, and (this bill) ensures that discrimination will not be tolerated beyond our borders," Democratic Assemblyman Evan Low told the newspaper.  Low introduced and sponsored the California legislature.
In practice, the bill is clearly directed at travel to the state of North Carolina due to the state's law that overturned local ordinances that provided various protections to the LGBT community.  Most notably, the law has become known for its requirement that individuals use the bathroom matching their assigned sex at birth.
Some recent reports indicate North Carolina has lost as much as $500 million in decreased tourism dollars as a result of the law.  The NCAA earlier this month announced plans to relocate seven championships that had been schedule to take place in North Carolina through 2017.  The NBA also announced earlier this year it would move its 2017 all-star game from North Carolina to New Orleans because of the law.
With Gov. Brown's signature, California joins five other states, including Connecticut, Minnesota, New York, Vermont, Washington that already have similar travel restrictions in place.
Have a tip we should know? [email protected]