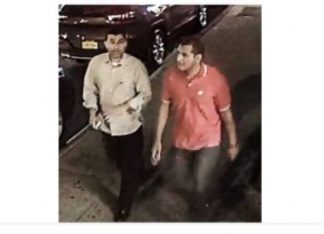 The FBI has reportedly identified the two mystery men who authorities say picked up a suitcase that contained a pressure cooker bomb left behind by alleged Chelsea bomber Ahmad Rahami.
Surveillance video captured two men walking near the location where an unexploded presser cooker bomb was discovered by authorities.  Investigators have said they believe the two men removed a bomb from the bag in order to take the suitcase and did not believe they were suspects. However, in the aftermath of the bombings earlier this month, the FBI released photos of the men and said they hoped to speak with them.
ABC News reports authorities now believe they have identified the two men, though no names have been released.  According to the report, authorities believe the two men were Egyptian pilots who have subsequently returned to Egypt.
We are also hearing that law enforcement sources say the failure of the two men to come forward has raised some suspicion, but there is still no indication that the men are considered to be suspects.
"They're not in any jeopardy of being arrested," NYPD counterterrorism chief Jim Watters told the news outlet on Wednesday. "We have no reason to believe they're connected."
Rahami's father was also asked about the two men since the FBI released the photos last week.  The elder Rahami reportedly said the two men did not appear to be familiar and he reiterated his belief that his son acted alone.
"He did everything by himself. He buy everything himself. He order and online he did it by himself," Rahami said to the Daily Mail.
Have a tip we should know? [email protected]