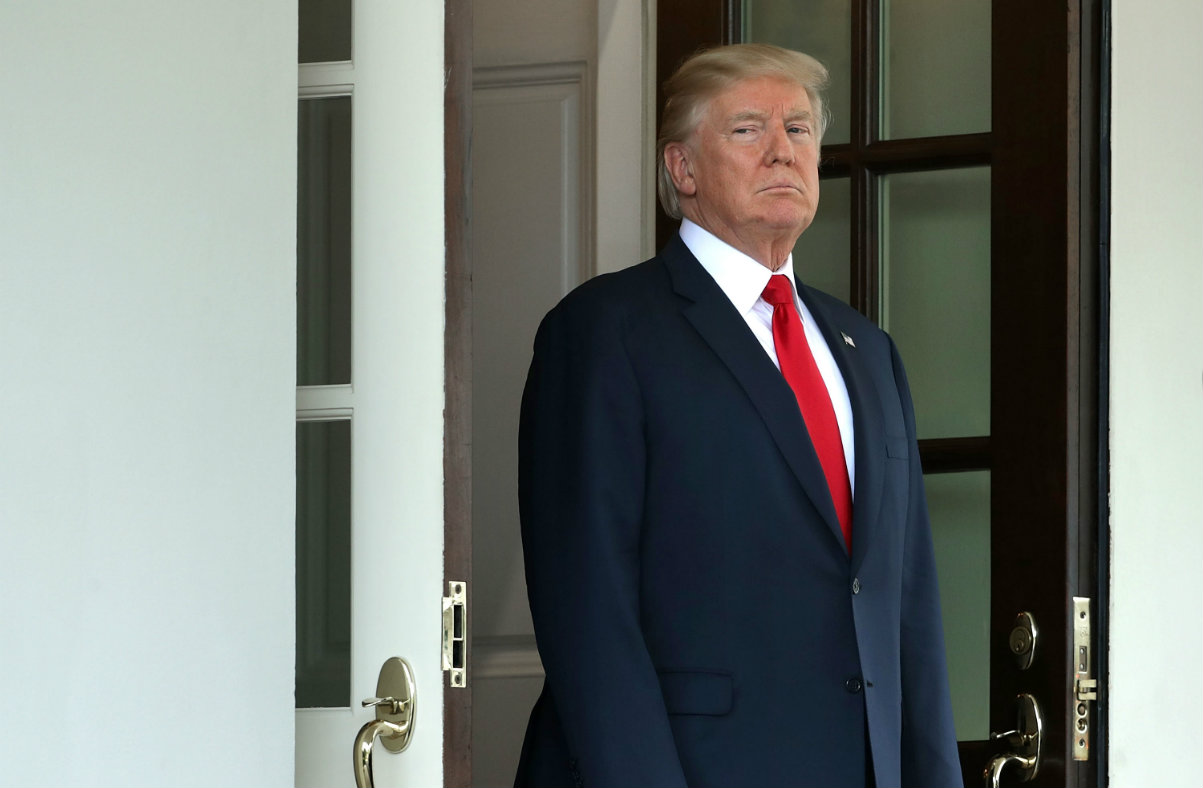 President Donald Trump promised to soon announce a new nominee to the Supreme Court. The hour is fast approaching, so get caught up with these key facts.
1. It's Going to Happen Monday night
The announcement is scheduled for 9 p.m. EST on Monday. Heck, even ABC is ready to broadcast it in the middle of the two-hour block normally set aside for The Bachelorette.
2. Trump Is Considering Four Possible Nominees
As of Sunday, Trump is giving another look at Third Circuit Judge Thomas Hardiman, according to three sources cited by The New York Times. Hardiman. Oh, boy, that name sounds familiar. He was the second-place choice when Trump nominated a replacement for the late Antonin Scalia's seat. The president chose the Tenth Circuit's Neil Gorsuch, but a source told CNN last year that Hardiman was given the sense that he could be tapped during a future vacancy. With Anthony Kennedy now stepping down from the bench, this may now be his time. Times sources claimed the president liked Hardiman's backstory: the first member of his family to graduate from college. Two sources also mentioned that the president's sister, Third Circuit Judge Maryanne Trump Barry, recommended Hardiman last year.
Reports earlier this week indicated that Trump liked D.C. circuit Judge Brett Kavanaugh, but the Times story said the president is having trouble looking past his connections to the Bush presidential family. This prospective nominee was White House Staff Secretary in the George W. Bush administration before getting confirmed to the federal court. He is seen as a politically safe choice, though social conservatives have attacked him for apparently being soft on abortion. If nominated to replace Kennedy, expect Democrats to question him about the time he allegedly called Hillary Clinton the b-word.
According to the Times, the president has said nice things to associates about Seventh Circuit Judge Amy Coney Barrett, a favorite of social conservatives. For Trump, a big plus is that she might encourage support from the base. Regardless, it may be that he will wait for another vacancy before nominating her. Advisers recommended that he use her to replace the 85-year-old Ruth Bader Ginsburg. In a previous report, Trump was reportedly weary of her lack of experience–she only became a judge last year.
Last (and maybe least, in the president's eyes) is the Sixth Circuit's Raymond Kethledge. In the Times' words, Trump found him "likable but comparatively dull." Also, social conservatives criticized his approach to immigration cases. In any case, Senate Majority Leader Mitch McConnell has recommended him and Hardiman as the safest choices. That might be important, since Republicans command only a 51 to 49 majority.
Trump said Sunday afternoon that he is looking at four people for the position.
Click here to see our list of other judges considered in the past.
3. Predicting a Nominee Is Tricky
If there is one constant these last few days, it is that people close to the president reportedly caution that he could change his mind. Indeed, reports this past week indicate a shifting preference for different candidates. Kavanaugh was apparently favored before Hardiman suddenly grabbed Trump's attention.
And remember that CNN report regarding the Scalia vacancy? White House sources reportedly admitted to leaving reporters with the impression that Hardiman was coming to Washington D.C., but that ended up not being the case.
[Image via Chip Somodevilla/Getty Images]
Have a tip we should know? [email protected]