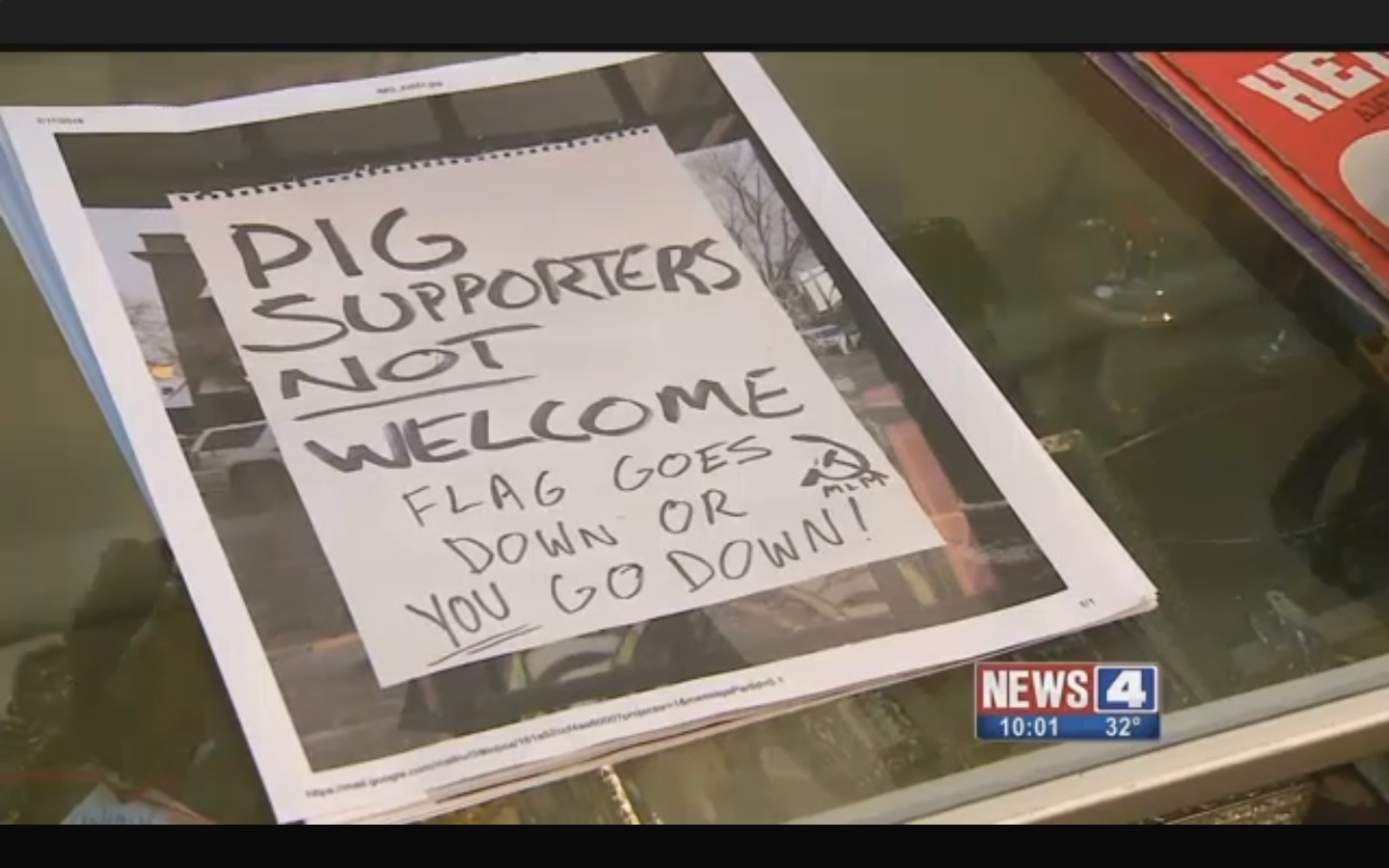 An antique store owner says her business is being targeted with harassment after she displayed a flag with a pro-police symbol on her storefront.
One month after displaying said symbol, a brief handwritten letter was posted to her shop' s front window. It reads:
Pig supporters not welcome. Flag goes down or you go down.
Cherri Elder owns Elder's Antiques in St. Louis, Missouri. The store has been open—and in the Elder family—for some 32 years.
Elder says she simply wanted to offer her support for local cops after favorable encounters with law enforcement over the past three decades.
The store owner offered that support by hanging an altered version of Old Glory featuring a blue stripe in lieu of one of the white stripes typically seen on the U.S. flag.
This modified version of the flag represents the "thin blue line" which is variously interpreted as (1) general law enforcement support; or more controversially (2) a culture and/or code-of-silence amongst officers which allegedly protects dishonest cops. While both definitions of the term are mutually exclusive, they are both in common currency.
Elder's use of the "thin blue line" was in accord with the first concept. But even that was apparently too much for some St. Louisans.
She told local news outlet KMOV 4, "People came by, they would cuss at you, harass you. They would harass the customers."
After a series of such interactions, Elder says she took the flag down, but received the aforementioned letter a full month after removing her show of support for the thin blue line.
The source of that letter is presently unknown. Local media have noted that it contains a hand-drawn hammer-and-sickle and the initials, "MLM," which sometimes stand for Marxism-Leninism-Maoism, a largely academic form of political ideology.
Law&Crime reached out to the only Maoist organization in the area for comment, but no response was forthcoming at the time of publication.
Elder appeared equally disturbed and resigned by the latest incident. She said, "It's most definitely a threat…I thought things were getting better. But apparently it's not."
[image via screengrab/KMOV 4]
Follow Colin Kalmbacher on Twitter: @colinkalmbacher
Have a tip we should know? [email protected]