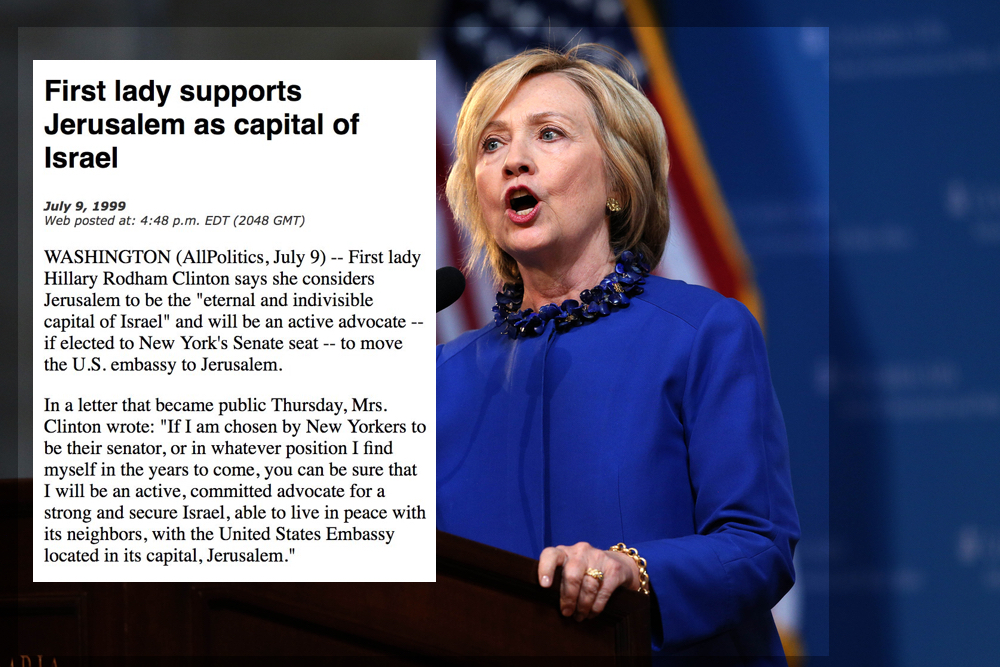 Donald Trump's decision to recognize Jerusalem as the capital of Israel is no aberration. Critics have squealed and pretended that it's completely without precedent. This is wrong.
In truth, Trump's decision here is simply indicative of someone finally making good on long-standing bi-partisan lip-service paid to rightwing political movements in both Israel and the United States.
When she announced her run for the U.S. Senate seat in 1999, Hillary Clinton said she considered Jerusalem the "eternal and indivisible capital of Israel."
From her letter, as reported by The New York Times:
If I am chosen by New Yorkers to be their Senator, or in whatever position I find myself in the years to come, you can be sure that I will be an active, committed advocate for a strong and secure Israel, able to live in peace with its neighbors, with the United States Embassy located in its capital, Jerusalem.'
In truth, both the Democratic Party and the GOP have been in consensus on the issue of Jerusalem's status for quite some time. The Democratic Party only last year removed language from their official platform that supported exactly what Trump just did viz. Jerusalem's status and the United States.
While the U.S., Taiwan, Vanuatu, and the Czech Republic are the only countries to currently acknowledge Jerusalem's status as Israel's capital, it shouldn't be too surprising that someone would eventually stand strong on the oft-repeated promises made by Likud-and-evangelical-boosting U.S. politicians for decades.
(And, practically, this decision doesn't really amount to much: Israel's seat of government, the Knesset, has almost always met and been located in Jerusalem–except for a brief 10-month stint in Tel Aviv before the permanent building was constructed. In reality, the Knesset–and therefore Israel's seat of government–has been in Givat Ram, Jerusalem since 1966.)
Trump's decision to recognize Jerusalem as Israel's capital–and move the U.S. embassy there–is simply a reversion to the foreign policy mean. People are only getting upset now because the mythological nature of U.S. dogma is being exposed by the promised move.
Other aspects of U.S. foreign policy dogma imperiled by Trump's brazenness and no-clothes mentality include ideas like: (1) America being genuinely committed to bringing peace, democracy and freedom to the world at large; (2) America being some sort of actual adherent to the concept of international law; (3) America acting as a neutral arbiter and/or honest broker in the ongoing conflict between Israel and the Palestinians; (4) The notion that there's actually such a thing as "the peace process." Trump's latest move puts the lie to each of the above claims with typical shrugging force.
Aside from painting a clearer–that is, more accurate–picture of where the U.S. actually stands on foreign policy issues, Trump's decision on Jerusalem is equal parts practical reality and orthodoxy par excellence. After all, Hillary herself has been in favor of acknowledging Jerusalem as Israel's capital since when Trump was still a Democrat.
[image via screengrab]
Follow Colin Kalmbacher on Twitter: @colinkalmbacher
This is an opinion piece. The views expressed in this article are those of just the author.