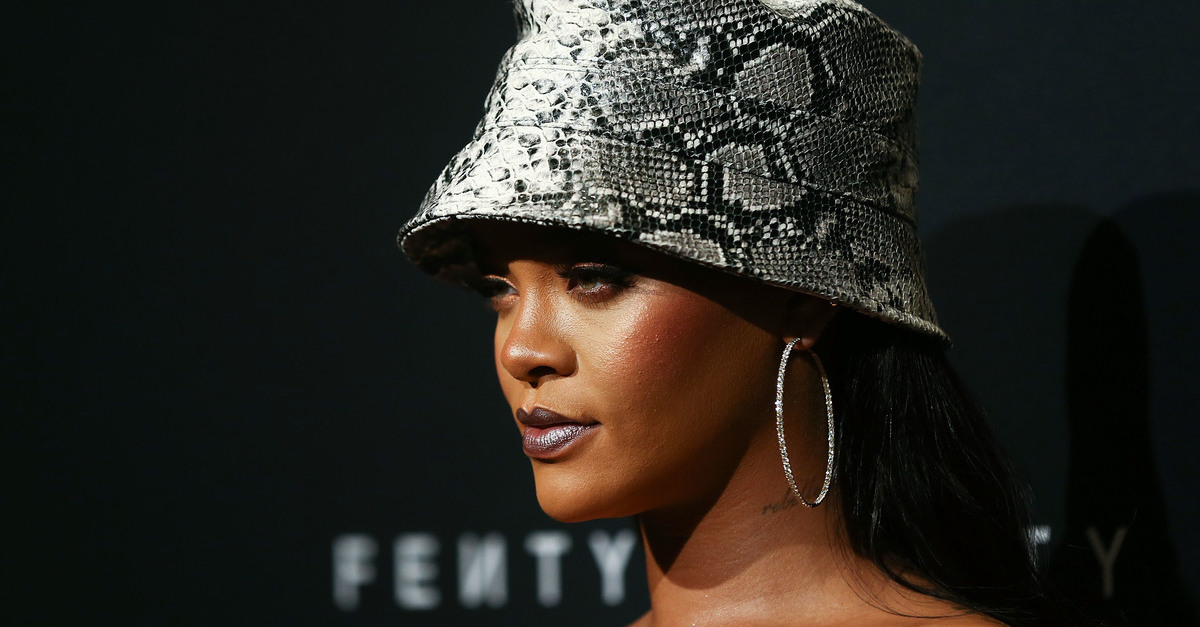 One of the glamorous-yet-risky parts of being a celebrity is the need to allow others to transact business on a celeb's behalf. While many of us may envy the seemingly luxurious lifestyle, there is always the risk of predatory hangers-on — even when we're talking family.
Rihanna is suing her father Ronald Fenty for false advertising and invasion of privacy, claiming he booked shows without her authorization and tried to profit off her name https://t.co/5QiuQDZyU8 pic.twitter.com/hENOB9MdF2

— Rolling Stone (@RollingStone) January 15, 2019
While Ri-Ri may have joined a short list of single-name fame, she actually does have a surname – Fenty; now, Robyn Rihanna Fenty is suing her dad, Ronald Fenty for going a bit too far with the family name. In the Fenty et al v. Fenty Entertainment, LLC et al. complaint, Rihanna accuses her dad of attempting to "solicit millions of dollars from unsuspecting third parties," by using the name they share.
Rihanna, who trademarked the use of "Fenty" for her business endeavors, including Fenty Beauty, Savage X Fenty, and Fenty PUMA,  is alleging that her father illegally profiting from her reputation, and attempted to hold himself out as Rihanna's representative without her authorization. In the lawsuit, Rihanna requests that the court to issue an injunction against her father for using the name "Fenty" asking a judge to place an injunction on her dad using the name, and requesting compensation to the tune of $75 million.
According to @TheFashionLaw, Rihanna has also demanded monetary damages to the tune of approximately $75 million in the lawsuit against her father and his business partner Moses Joktan Perkins. pic.twitter.com/IIVkeLIIsZ

— Fenty Media (@FentyMedia) January 15, 2019
Rihanna's claim for an injunction seems strong. She reports to have sent several cease and desist letters to Mr. Fenty, and alleges that he used the name to create his own entertainment company and even attempted to book a 15-million-dollar Latin-American tour without his daughter's permission. Assuming the singer can produce evidence to support those allegations, the injunction should be a no-brainer. Given that Ronald Fenty does not have permission to book gigs on Rihanna's behalf, the court will be likely to rule that he should not hold himself out as an agent or partner of the superstar.
The issue of damages, however, is a bit more complex. Whether Ronald Fenty misrepresented himself in such a way as to cause Rihanna financial harm isn't immediately apparent. Moreover, the fact that "Fenty" is Ronald's last name has some (albeit, limited) potential to further muddy the waters between proper and improper use of the term. Likely, though, the court will rule against Mr. Fenty for any commercial, or non-personal use of the name.
Rihanna fans have been quick to rally around their queen, and to view her father's actions with severe skepticism; the singer has been very public about her father's physical abuse of her mother during Rihanna's childhood. Although Rihanna has posted some pictures together with her father in the not-too-distant past, I've got $75 million that says daddy-daughter time isn't going so well these days.
[Image via Brendon Thorne/Getty Images]
This is an opinion piece. The views expressed in this article are those of just the author.
Elura Nanos - Columnist & Trial Analyst, Law & Crime; CEO Lawyer Up