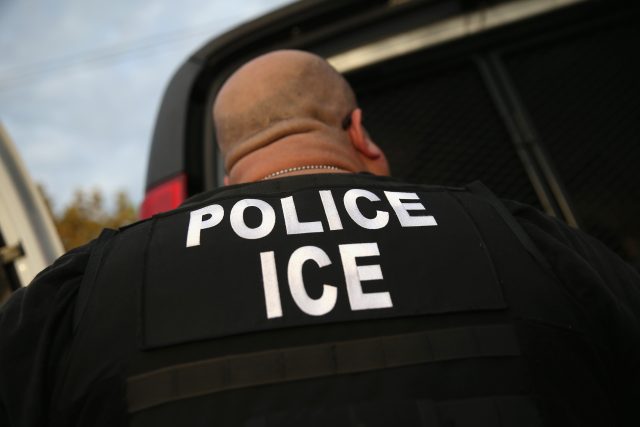 United States Immigration and Customs Enforcement ("ICE") believes continued courthouse arrests are necessary due to the effectiveness of pro-immigrant policies enacted by sanctuary cities.
On Wednesday, January 31, ICE issued a directive detailing the agency's reasoning for why they believe their agents must be able to continue their controversial arrest policy inside of the nation's courthouses.
Chief among ICE's reasoning for this apparent need is that sanctuary city policies are too effective in frustrating agents' ability to deport undocumented immigrants.
Titled, "Directive Number 11072.1: Civil Immigration Enforcement Actions Inside Courthouses," the document addresses ICE's much-criticized courthouse arrest policy and begins by noting that people who enter courthouses are "typically screened by law enforcement personnel to search for weapons and other contraband."
ICE uses reference to this common safety measure in order to bolster the agency's policy, stating, "Accordingly, civil immigration enforcement actions taken inside courthouses can reduce safety risks to the public, targeted alien(s), and ICE officers and agents."
The agency then notes, in an apparent attempt to bat down anticipated criticism regarding the media frenzies that such arrests tend to generate, "When practicable, ICE officers and agents will conduct enforcement actions discreetly to minimize their impact on court proceedings."
Then, seemingly seeking to counter widespread claims that ICE's courthouse arrest policy is violative of widespread legal standards, the agency points to the activity of other law enforcement institutions, so as to normalize their own agents' behavior, claiming, "Federal, state and local law enforcement officials routinely engage in enforcement activity in courthouses throughout the country because many individuals appearing in courthouses for one matter are wanted for unrelated criminal or civil violations. ICE's enforcement activities in these same courthouses are wholly consistent with longstanding law enforcement practices, nationwide."
The final line of the directive's opening section explains why ICE is sticking to their guns on the policy. They note/whine:
And, courthouse arrests are often necessitated by the unwillingness of jurisdictions to cooperate with ICE in the transfer of custody of aliens from their prisons and jails.
The above-quoted line is an obvious reference to the common sanctuary city policy of refusing to honor ICE detainer requests. According to the ACLU, "An ICE detainer is a written request that a local jail or other law enforcement agency detain an individual for an additional 48 hours (excluding weekends and holidays) after his or her release date in order to provide ICE agents extra time to decide whether to take the individual into federal custody for removal purposes."
States, cities and court systems across the country have requested that ICE cease their policy of courthouse arrests. This directive indicates the agency has no such intention of doing so.
[image via John Moore/Getty Images]
Follow Colin Kalmbacher on Twitter: @colinkalmbacher
This is an opinion piece. The views expressed in this article are those of just the author.