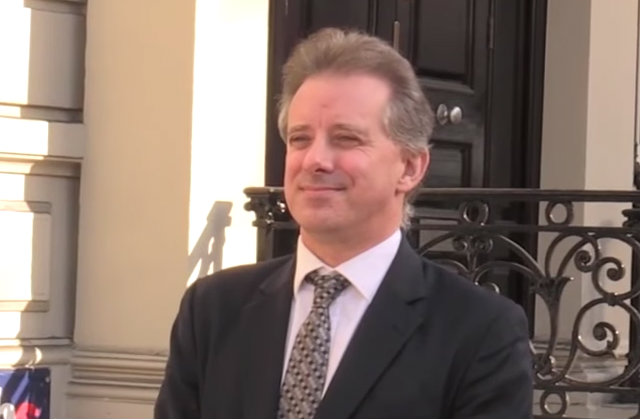 The man believed to have authored most of the Nunes surveillance memo reportedly attempted to meet with ex-MI6 spy Christopher Steele last summer but was twice rebuffed in his efforts.
According to a Friday report in the New York Times, Kashyap Patel wrote most of the recently-released memo attributed to Representative Devin Nunes (R-CA).
Prior to writing his portion–believed to be the majority–of the controversial surveillance memo, Patel traveled to London in order to force a meeting with Steele.
Patel and another congressional staffer were apparently "dispatched" by Nunes to show up, unannounced, at Steele's office building. And, that's apparently what they did. When someone at the office building explained that Steele wasn't in at the moment, Patel and his partner, Douglas E. Presley, somehow learned their British charge was actually at his lawyer's office that day.
The frustrated duo then showed up at said lawyer's office and made their case for an audience with the Aden-born ex-spy. Patel and Presley were left high and dry, however, as Steele's attorney declined the request to subject their client to the two Americans. Then, Presley and Patel simply left.
(It's not presently clear what happened to the two world travelers–or what they drank, if anything–immediately after being doubly shut down by the British while in pursuit of Steele that day.)
An anonymous Republican member of the House Permanent Select Committee on Intelligence said, when questioned by the New York Times, that the purpose of Patel's trip was actually to "make contact" with Steele's lawyers–and not Steele himself–a statement which seems to function as post facto gloss to suggest the Patel-Presley mission was actually accomplished.
In any event, the bizarre hunt for Steele last summer is said to have been a breach of congressional and/or diplomatic protocol. Traditionally, a visit like Patel's–that is, a House staffer being dispatched to corner an ex-spy and/or their attorney(s)–would be coordinated with the help of counsel and with the knowledge of House Democrats and the American Embassy.
[image via screengrab/CBS]
Follow Colin Kalmbacher on Twitter: @colinkalmbacher
Have a tip we should know? [email protected]