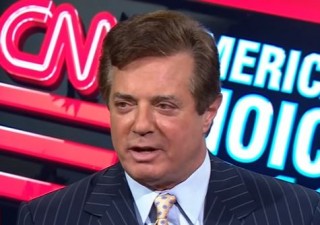 According to a report by the Associated Press, Donald Trump's campaign chairman, Paul Manafort, helped a Ukrainian political non-profit acquire the lobbying services of two American firms who never reported their activities with the Department of Justice. Manafort and Rick Gates, who also works for the Trump campaign, had worked with the party of then-President Viktor Yanukovych in 2012.
The report says that at that same time, Gates was working with a Ukrainian non-profit organization that supported Yanukovych, and that he and Manafort introduced the group, the European Centre for a Modern Ukraine, to two Washington, D.C.-based lobbying firms that it ended up hiring for millions of dollars. A source told the AP that Gates described the Centre's role as supplying funds that couldn't be traced to Ukrainian politicians who were paying Gates and Manafort. Board members for the European Centre for a Modern Ukraine had included members of parliament who were part of Yanukovych's party, and lobbying done on its behalf included pushing for U.S. policies that favored Yanukovych. According to the AP report, lobbyists hired by the organization worked to halt progress on a congressional resolution to call for Yankuovych to release a political opponent from prison. Gates and Manafort allegedly also consulted with the lobbying firms regarding Ukrainian politics.
Now, lobbying on behalf of a foreign body isn't against the law, but failing to report it to the U.S. Department of Justice is. The report says that neither the Podesta Group nor Mercury LLC registered their activities under the U.S. Foreign Agents Registration Act of 1938 (FARA), even though from 2012 to 2014, the Ukrainian group paid Podesta Group $1.13 million for their services, and $1.07 million to Mercury.
FARA is comprised of a number of statutes in 22 U.S.C. §§ 611-621. It says, in Section 612(a), "No person shall act as an agent of a foreign principal unless he has filed with the Attorney General a true and complete registration statement." The Act defines a foreign principal as a government or political party of a foreign country, a person outside the U.S. who is not a citizen domiciled in the U.S., or — and here's the important one — "a partnership, association, corporation, organization, or other combination of persons organized under the laws of or having its principal place of business in a foreign country." That last one means that even though the non-profit wasn't officially affiliated with the Ukrainian government, it still qualifies as a foreign principal.
Section 611(c) defines an agent of a foreign principal as:
(1) any person who acts as an agent, representative, employee, or servant, or any person who acts in any other capacity at the order, request, or under the direction or control, of a foreign principal or of a person any of whose activities are directly or indirectly supervised, directed, controlled, financed, or subsidized in whole or in major part by a foreign principal, and who directly or through any other person—

(i) engages within the United States in political activities for or in the interests of such foreign principal;

(ii) acts within the United States as a public relations counsel, publicity agent, information-service employee or political consultant for or in the interests of such foreign principal;

(iii) within the United States solicits, collects, disburses, or dispenses contributions, loans, money, or other things of value for or in the interest of such foreign principal; or

(iv) within the United States represents the interests of such foreign principal before any agency or official of the Government of the United States; and

(2) any person who agrees, consents, assumes or purports to act as, or who is or holds himself out to be, whether or not pursuant to contractual relationship, an agent of a foreign principal as defined in clause (1) of his subsection.
That's a lot of technical language, but it's going to come into play later. Basically, it means anyone who engages in political, PR, or fundraising activities on behalf of or following the direction of a foreign principal, or goes before a U.S. government body or official representing a foreign principal's interests. There are exceptions, but they are mainly for diplomats and the press. That seems like a pretty broad range of actions that would qualify someone as an agent of a foreign principal, but somehow, the lobbying groups came to the conclusion that they didn't fit the bill.
The report says that a legal opinion that Mercury used claimed that the European Centre for a Modern Ukraine was indeed a foreign principal, but that the firm didn't have to register their activities because they were not directly or indirectly supervised, directed, controlled, financed or subsidized by the Ukrainian government or the country's political parties.
Now go back to that list of criteria for being an agent of a foreign principal. The first part, subsection (1) uses a lot of that same language. There's just one big problem: the law doesn't say that an agent has to be working for a foreign government, just a foreign principal, which they acknowledged the non-profit was.
Podesta CEO Kimberley Fritts told the AP that both Podesta and Mercury coordinated in deciding that registering under FARA was unnecessary. "If counsel had determined FARA was the way to go, we would have gladly registered under FARA," she said.
But it seems pretty clear that Podesta and Mercury were indeed agents of a foreign principal and should have registered with the Justice Department. Even if they weren't necessarily being directed by the Ukrainian government, they were still working for a foreign organization and engaged in political activities for them within the U.S. Additionally, as lobbyists, it is more than likely that they represented the group's interests before a U.S. government agency or official. So both lobbying firms appear to qualify.
As for Manafort himself, he could be in legal trouble in two ways. First, if he was consulting for the lobbying firms on behalf of the European Centre for a Modern Ukraine, he potentially could have qualified as an agent engaging in political activities on their behalf. Second, he was working directly for a Ukrainian political party at the time, so his work with the lobbying groups, and this could fall under FARA for that as well. However, FARA only applies to agents acting within the United States. If he was in the Ukraine while this was going on, he may be in the clear.
Manafort's involvement in the lobbying activities has been disputed. Podesta said Manafort wasn't involved and Gates wasn't working for Yanukovych's party. The director of the European Centre for a Modern Ukraine told the AP that while she met with Manafort twice, neither he nor Gates were actually involved in lobbying. That contradicts Gates' claims that he and Manafort acted as political consultants for both Podesta and Mercury, and that he and Manafort both worked for Yanukokvych's party.
The AP report says that FARA prosecutions are rare, and indeed the FARA website only mentions one case in their "Recent Cases" section. That one involved a foreign organization that was suspected of funding international terrorism. However, if Manafort or members of Podesta or Mercury were to be prosecuted for this,  they could face prison sentences. Certain FARA violation have penalties of up to five years in prison and fines up to $10,000, while other offenses are punishable by up to six months of imprisonment and $5,000 fines.
[Image via screengrab]
This is an opinion piece. The views expressed in this article are those of just the author.