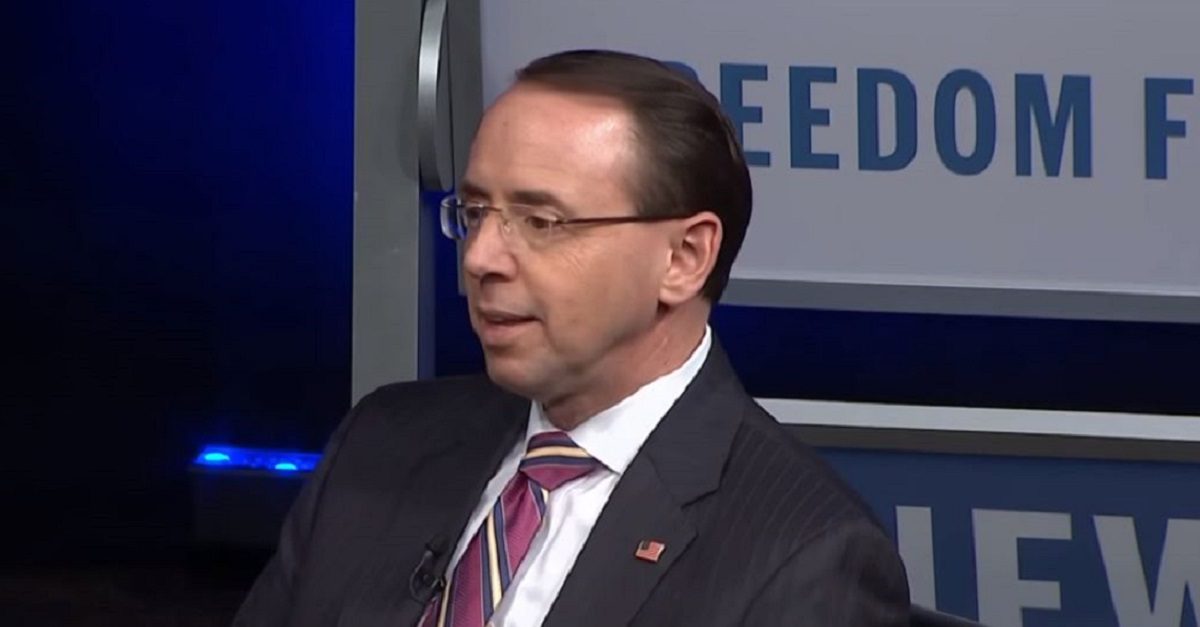 A new report in The New York Times delves into a memo that former FBI Deputy Director and Acting Director Andrew McCabe wrote about a conversation he had with Deputy Attorney General Rod Rosenstein in the wake of James Comey's firing. Just as Attorney General Jeff Sessions recused himself from the investigation of Trump campaign ties to Russian interference in the 2016 election due to his personal connection to the campaign, the report shows that Rosenstein should have recused himself from any investigation of Comey's firing.
President Donald Trump's decision to fire Comey in the midst of the Russia probe prompted the investigation to branch off into examining whether Trump obstructed justice. The problem here is that with Sessions recused, Rosenstein was in charge of the investigation, even though he was instrumental in Comey's firing. Despite the appointment of a special counsel, Robert Mueller still answers to Rosenstein, and the Times report shows just how connected the Deputy AG was.
According to the report, McCabe wrote about how Rosenstein told him about a discussion he had with Trump prior to Comey's termination. Remember, when Trump first fired Comey, he cited recommendations from both Sessions and Rosenstein. Rosenstein's letter based the recommendation on Comey's handling of the Hillary Clinton email investigation, but now it seems that Trump asked him to reference Russia in his letter.
Now, let's take a step back for a moment. A strong argument can be made that the very fact that Rosenstein was at all connected to Comey's firing should have caused him to recuse himself once the investigation turned in that direction. Pretty much everyone except for Trump understands why Sessions recused himself; to avoid even the appearance of impropriety, he took himself out of the equation. Even Trump's own lawyer, Rudy Giuliani, said he might have done the same thing in Sessions' position. Here, you have Rosenstein overseeing an investigation into something that he was part of.
The revelation that not only was Rosenstein involved in Comey's firing, but that Trump spoke to him about Russia is further evidence that he is too close to the subject of the investigation to be at the helm. On the one hand, Trump supporters are suspicious of Rosenstein because he had been working with Comey on the Russia investigation up until the firing. On the other hand, Rosenstein was appointed to the Deputy AG position by Trump and was involved in the very thing that the investigation is now looking at. He could have just as much reason to want this to go away as Trump does. Either way, if it's true that he and Trump talked about Russia as the reason for firing Comey — even if it was simply Trump's desire for the public to know that he personally wasn't under investigation at the time — that's reason enough to believe that Rosenstein would be a valuable witness in the investigation and should have nothing to do with overseeing it.
Like with Sessions, none of this means that Rosenstein did anything wrong — or that Trump did anything wrong, for that matter — but it sure doesn't look good. It's bad enough when the president of the United States makes constant verbal attacks on the nation's top law enforcement officials, causing his supporters to doubt their credibility. We don't need them providing justification.
[Image via MSNBC screengrab]
This is an opinion piece. The views expressed in this article are those of just the author.