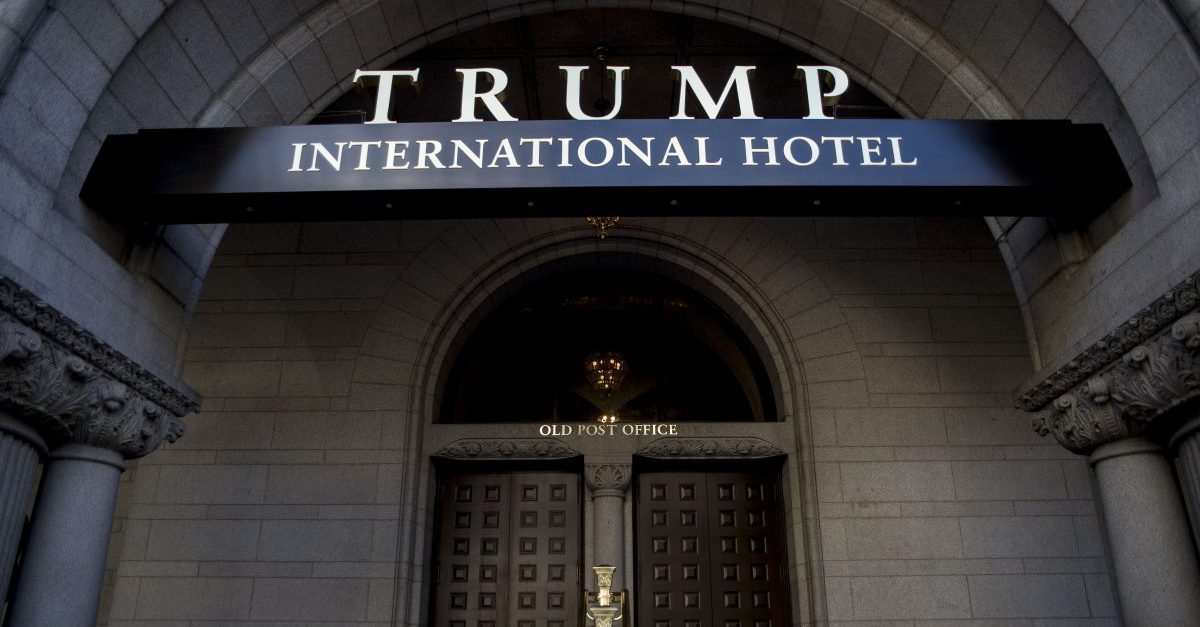 A D.C. bar just lost at an attempt to hold President Donald Trump responsible for improperly plugging his own businesses from the White House. Cork Wine Bar has been something of a casualty of the Trump presidency. Formerly a big hangout for D.C. elites, Cork has now taken a back seat to restaurants in Trump International Hotel. According to Cork, Trump's use of his official position to increase business for his hotel amounts to "unfair competition," which is seriously affecting Cork's bottom line.
Unfair as it may seem for a president to promote his own business, U.S. District Court Judge Richard Leon wasn't at all sympathetic to Cork's plight. Dismissing Cork's complaint, Judge Leon ruled that anything Trump and his staff may have done to promote Trump's own establishments amounted to no more than the forces of the free market.
Leon, a George W. Bush appointee, likened any self-serving behavior by Trump to typical celebrity behavior, writing:
 I would be foreclosing all manner of prominent people — from pop singers to celebrity chefs to professional athletes — from taking equity in the companies they promote. Indeed, I would be reading the 'unfair' right out of 'unfair' competition. This I cannot do!
Note the rare use of a judicial exclamation point. This judge is serious about capitalism.
The primary basis of Judge Leon's decision was what Trump did not do. He didn't block Cork's entrance, or intimidate or trick its customers. According to Leon, this is a simple case of Trump's enjoying the fruits of his presidential victory in a perfectly legal way.
Free market aside, some legal experts have an entirely different take on the legality of using the presidency for lucrative branding. After KellyAnne Conway made those questionable comments about Ivanka's company from the podium, a group of boutiques filed a class action lawsuit against Ivanka Trump for unfair competition. The statute prohibiting government employees from promoting products may not apply to the President, but the effect it has on competitors is part of an ongoing concern.
With regard to that class action lawsuit, Norman Eisen,  chief ethics lawyer for the Obama administration, told the Washington Post:
I do believe that the Trump family businesses are engaged in unfair competition. The ways in which the whole Trump family uses the White House and the presidency as the world's greatest infomercial does strike me as unfair.
Although that lawsuit, filed in California alleges violation of a California statute, the underlying question really is the same: is it unfair to promote a private business from the Oval Office?
Questions of a president advertising his private business are not something courts have extensively ruled upon before, and reasonable minds can certainly disagree about the degree to which the law can and should protect businesses from one another.  Further, lawsuits such as those filed by Cork will present maddeningly difficult questions of how to quantify damages suffered by a winning plaintiff. For now, though, it doesn't seem that unfair competition is a winning weapon against the Trump Administration.
Still, though, there are other contexts in which Trump's promotion of his own businesses remains problematic. Lawsuits filed against Trump and his administration for receipt of illegal emoluments is an entirely separate avenue of legal recourse, and one that focuses on what Trump has gained as opposed to how a separate business may have been harmed.
As for Cork, it isn't ready to let this fight die just yet:
BREAKING: Cork wine bar will appeal today's dismissal of its unfair competition lawsuit v. @realDonaldTrump and Trump Hotel DC, attorney @Scott_H_Rome tells me. pic.twitter.com/e78SaFLFVD

— Zach Everson (@Z_Everson) November 26, 2018
This is an opinion piece. The views expressed in this article are those of just the author.
Elura Nanos - Columnist & Trial Analyst, Law & Crime; CEO Lawyer Up