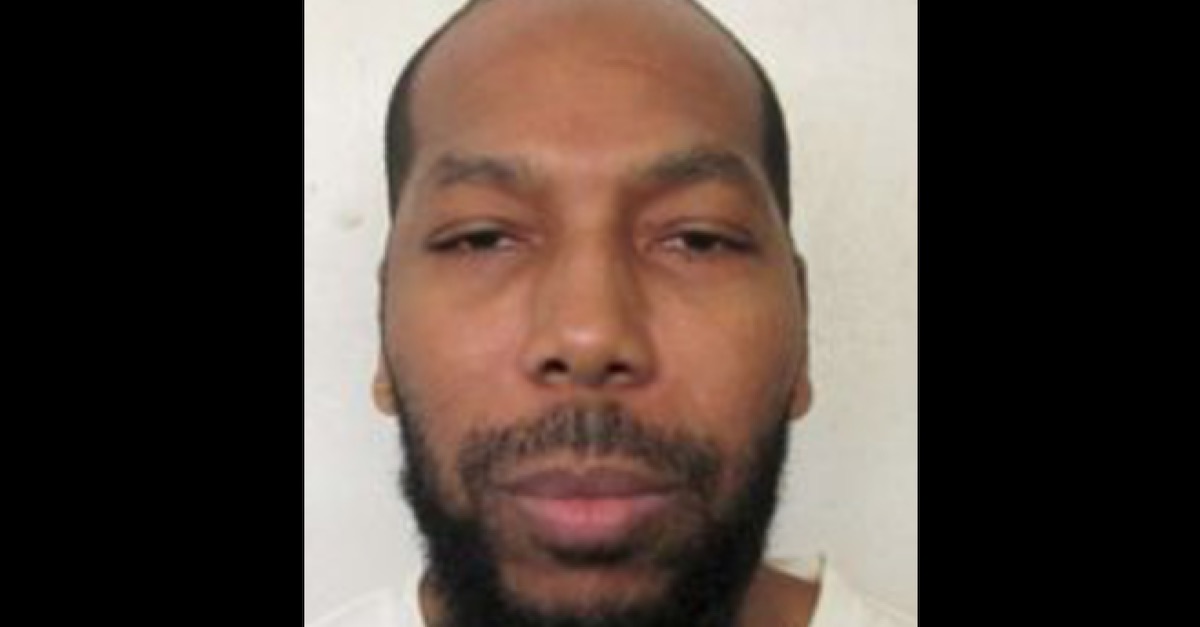 Alabama just delayed the execution of a child rapist and murderer because it's being stubborn about imposing Christianity on its prisoners. Apparently, the state is so determined to exclude a Muslim imam from an execution that it's willing to postpone an execution rather than simply concede.
Domineque Ray raped, robbed, and murdered 15-year-old Tiffany Harville in 1995, and was sentenced to death following his conviction. Until Wednesday, the 42-year-old Ray had been scheduled for execution at 6:00 p.m. (CST) on Feb. 7, 2019 at the Holman Correctional Facility in Atmore, Alabama. On Jan. 23, a prison warden explained the logistics of the execution to Ray. Ray, a devout Muslim, asked that his imam be present in the execution chamber, and the warden refused.
Who would be allowed in the execution chamber, though, was a Christian chaplain (in fact, the same chaplain who has attended almost every execution in Alabama for the last two decades, regardless of the faith of the inmate); he would kneel at Ray's side and pray with him. If Ray did not wish to pray with the chaplain, the chaplain would still remain in the room, but stand near the wall silently.
If this whole process seems a bit pushy on its face, it gets even worse as Alabama begins to defend its position in court. Ray made a literal eleventh-hour appeal to the Eleventh Circuit, in which he argued that Alabama's refusal to allow the imam and its insistence on having the Christian chaplain present constituted a violation of Ray's constitutional rights under the Establishment Clause.
The Eleventh Circuit was clearly not pleased by Alabama's argument at the district court level, in which the state provided essentially zero basis for its position that allowing Ray's imam would somehow compromise the safety of the execution. Circuit Judge Stanley Marcus, speaking for a three-judge panel of the Eleventh Circuit, wrote:
After review of this exceedingly limited record, we reject the district court's analysis, and its refusal to grant an emergency stay in the face of what we see as a powerful Establishment Clause claim.
Powerful claim, indeed. Whether analyzed under the First Amendment or under the Religious Land Use And Institutionalized Persons Act (both raised in Ray's petition), Alabama's actions are more than questionable.
Alabama's chaplain-only policy obviously establishes a preference to Christianity; what's worse, though, is the state's outright arrogance. Alabama neither provided specific rationale for its refusal to allow Ray's imam (who, by the way, had already been pre-screened and allowed to regularly visit Ray and other Muslim inmates at the prison for several years) to attend, nor did it provide any evidence as to what made the chaplain uniquely qualified. It simply denied Ray's request with what amounts to "because we said so" reasoning.
The Eleventh Circuit was not amused by Alabama's unsupported arguments, calling out the state for "appear[ing] to have set up 'precisely the sort of denominational preference that the Framers of the First Amendment forbade,'" and noting that "Alabama has presented us with nothing in support of its claims."
Because Ray only learned that his imam would be forbidden from entering the execution chamber on Jan. 23 and filed a lawsuit immediately thereafter, the Eleventh Circuit rejected the lower court's conclusion that Ray had waited too long to raise his concerns. The court noted that Ray had "provided an altogether plausible explanation for why the claims were not filed in district court sooner," and once again chastised that Alabama "neither argued nor produced any evidence" supporting an argument that Ray could have filed sooner.
For now, Ray's execution is stayed, and his appeal has been expedited, leaving the casual observer to wonder whether litigating this issue is truly less trouble than simply allowing the imam to attend to Ray in his final moments.
[Image via Alabama Department of Corrections]
This is an opinion piece. The views expressed in this article are those of just the author.
Elura Nanos - Columnist & Trial Analyst, Law & Crime; CEO Lawyer Up