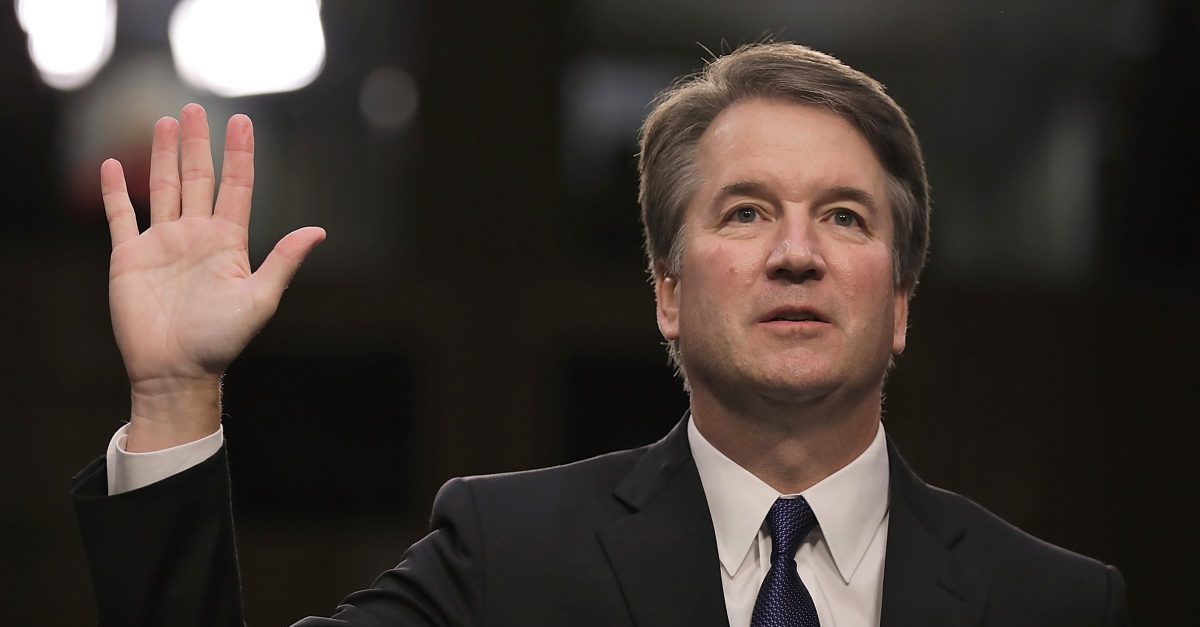 Brett Kavanaugh's nomination to the Supreme Court was approved by the U.S. Senate by a vote of 50-48 late afternoon on Saturday. One of the first organizations to congratulate him was the American Family Association (AFA), an anti-gay and fundamentalist Christian organization founded in 1978.
The AFA has long opposed what it terms the "homosexual agenda."
The organization distinguished itself by attacking gay journalists in the 1990s. In the early 2000s, the AFA unsuccessfully argued in favor of keeping Texas' anti-sodomy laws intact and later mounted a press campaign against the children's film, A Shark Tale, because it allegedly promoted the acceptance of gay rights.
Aside from legal activism and advocacy against homosexuality, the AFA also supplied a series of "In God We Trust" posters to several public schools across the country in the aftermath of the September 11, 2001 terrorist attacks. The AFA is also sort of opposed to trans fats. In 2015, the organization repudiated the views of a former director by noting, "AFA rejects the idea…that 'Free exercise of religion' only applies to Christians."
In a press release issued moments after Kavanaugh was confirmed to the Supreme Court, the AFA noted:
Throughout the process, the American Family Association…has been calling for the swift confirmation of Judge Kavanaugh, as well as for prayers for him and his family as they faced great difficulty and stress over the past month. Going forward, AFA says, decisions made at the Supreme Court level will have far-reaching impact for several generations, especially now that the Court has another original intent constitutionalist on the bench.
AFA President Tim Wildmon, son of AFA founder Donald Wildmon also chimed in. He said, in the release, "Brett Kavanaugh is a constitutional judge who will adhere to the original intent of our Founding Fathers. Despite the sleazy tactics used against Judge Kavanaugh, he has weathered the storm. His confirmation will have a positive impact for generations to come. Issues important to the American Family Association, such as sanctity of life and religious freedom, are taking on an even greater importance in our culture, and how the Supreme Court rules in these matters will affect every American for decades to come."
The younger Wildmon continued, saying, "Liberals desperately want absolute control of the courts to continue their full-throttled attack to destroy America. Democrats, for example, want to use the courts to create open borders, to force people of faith to violate their sincerely held religious beliefs, and to allow boys who think they are girls into public school restrooms designated for girls only. This effort will not stop at the lower courts, even in light of Judge Kavanaugh's confirmation."
[image via Drew Angerer/Getty Images]
Follow Colin Kalmbacher on Twitter: @colinkalmbacher
Editor's note: this article has been amended post-publication to clarify the AFA's stance on trans fats.
Have a tip we should know? [email protected]