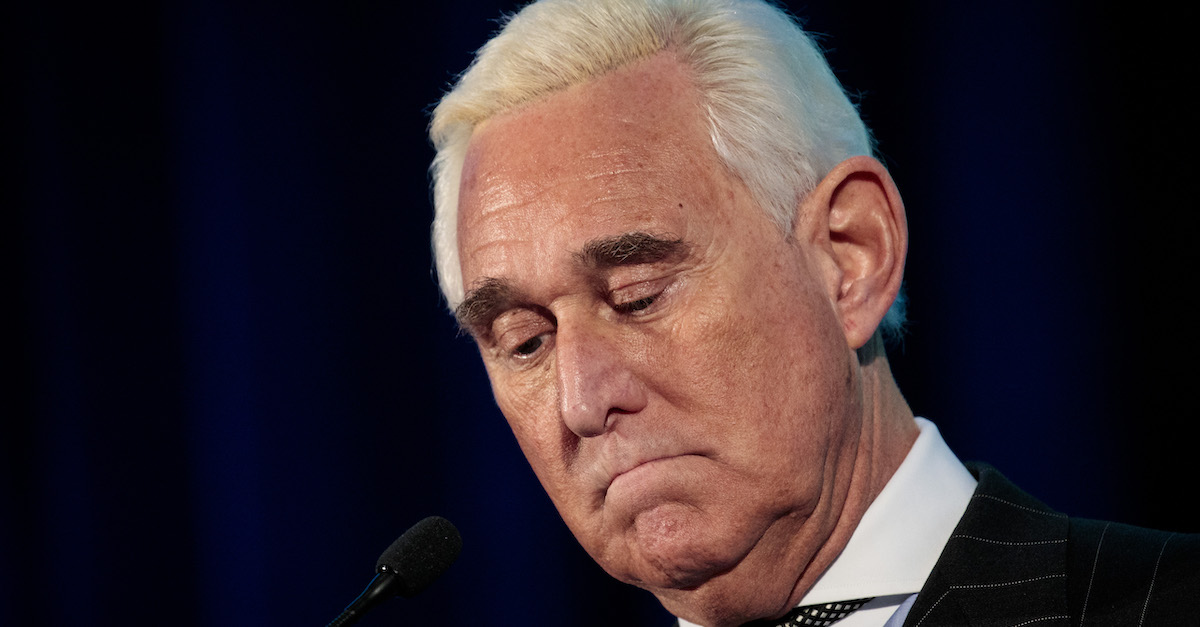 Those paying attention to Roger Stone's Instagram account on Monday may have noticed a startling image he shared that included the face of the judge in his criminal case, Amy Berman Jackson, with cross hairs next to her head. While the photo was removed soon after it went up, the image was up long enough for several notable law professors to jump in and claim that it could result in serious trouble for Stone moving forward.
RELATED: Stone's Lawyers Formally Apologize to Federal Judge for Instagram Photo
"This. Is. Not. Okay," University of Texas Law Professor Steve Vladeck tweeted. Vladeck also cited a statute, saying that depending on how Stone meant the post, he could be guilty of a felony.
This. Is. Not. Okay.

(And if it's meant as a threat, it's also a felony: https://t.co/p2GdLx1PXV.) https://t.co/KxzYnOkQrE

— Steve Vladeck (@steve_vladeck) February 18, 2019
That statute is 18 U.S.C. § 115, which says it's a crime if someone:
threatens to assault, kidnap, or murder … a United States judge … with intent to impede, intimidate, or interfere with" the judge "while engaged in the performance of official duties,"  or with intent to retaliate against such … judge …  on account of the performance of official duties[.]
A threat under this statute can be punished with up to 10 years in prison.
George Washington University Law Professor Randall Eliason also weighed in on Stone's post, saying it was "remarkably stupid" and could "land him in custody."
This is both very troubling and remarkably stupid on Stone's part. Twitter has already suspended his account and this may land him in custody. https://t.co/L3XYWBzsz0

— Randall Eliason (@RDEliason) February 18, 2019
Perhaps Stone realized this himself, which is why he soon deleted the post. This could leave his legal team the option of claiming that the short amount of time the image was up is evidence that it was not mean to truly threaten Judge Jackson or impede the case.
RELATED: 'Random' Photo of Judge That Was Posted on Stone's Instagram Can Easily Be Found on Pro-Russian Sites
Nevertheless, it may have been unwise to post something like this, in light of the fact that the judge was relatively kind to Stone in her decision to only issue a limited gag order against him in the case. While Stone is not allowed to speak about his case outside the courthouse itself, he is still generally free to comment on it. This social media post, and the attention it has already garnered, could be evidence to support a broader gag order.
Judge Jackson has also proven herself to be tough in the recent past, when she rescinded Paul Manafort's pre-trial release in his Washington, D.C. case, ordering him to be jailed after he was accused of witness tampering.
Update: Stone later posted a message addressing the image. He explained that it was not meant as a threat, and that "Any inference that this was meant to somehow threaten the Judge or disrespect court is categorically false."
View this post on Instagram
CBS reporter Kathryn Watson said Stone told her he removed the image because of the risk of misinteerpretation.
Roger Stone texts me this in response to my inquiry about his Instagram post of Judge Amy Berman Jackson that featured crosshairs in the background: pic.twitter.com/smh8bs4JD2

— Kathryn Watson (@kathrynw5) February 18, 2019
[Image via Drew Angerer/Getty Images]
Have a tip we should know? [email protected]