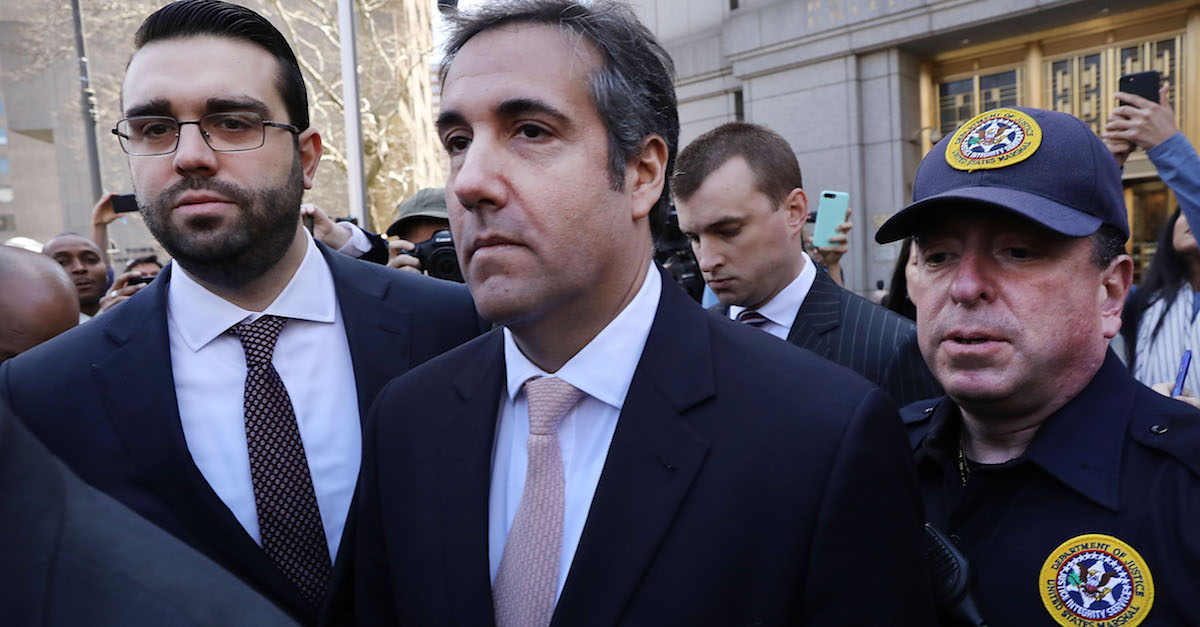 Questions about what laws may have been broken have been asked since Stormy Daniels' attorney Michael Avenatti released information on Tuesday about Michael Cohen's bank records. The questions of lawbreaking focus on both Cohen's activities and whoever disclosed the bank records. The inspector general of the U.S. Treasury is now looking into the latter.
The most damaging deal of all for Cohen may turn out to be the one he struck with Swiss-based pharma company Novartis, because experts say it may have triggered the Foreign Agents Registration Act (FARA) and make him criminally liable. While multinational, Novartis is Swiss-based.
The records released by Avenatti included details of payments from major corporations to Cohen's shell company Essential Consultants, LLC, in exchange for insight into the Trump Administration, and companies named like AT&T, Novartis, Columbus Nova and Korea Aerospace Industries have all confirmed payments were made, but for different reasons.
Novartis said that the agreement with Essential Consultants, LLC, was a one-year deal inked in February 2017, just a few months after Trump was elected. It also said they allowed the agreement to expire in February 2018. The company said the agreement "focused on US healthcare policy matters" and that the "terms were consistent with the market."
An unnamed employee with knowledge of the situation then told STAT that Cohen "reached out to us" with promises of access, adding, "It was almost as if we were hiring him as a lobbyist."
"He reached out to us," the source said."With a new administration coming in, basically, all the traditional contacts disappeared and they were all new players. We were trying to find an inroad into the administration. Cohen promised access to not just Trump, but also the circle around him. It was almost as if we were hiring him as a lobbyist."
"Almost as if" may turn out to be "Did, in fact."
"At first, it all sounded impressive, but toward the end of the meeting, everyone realized this was a probably a slippery slope to engage him. So they decided not to really engage Cohen for any activities after that," the employee said of a March 2017 meeting.
"It might have caused anger," the employee said, if they attempted to cancel the agreement. Rather than risking Trump's wrath by cancelling, they allowed it to lapse.
The Novartis employees present at the March meeting were said to be mostly from government affairs and lobbying teams.
It was ex-Novartis CEO Joe Jimenez, to whom Cohen reached out, and Jimenez instructed his team to reach a deal with Cohen, according to STAT. In September 2017, it was announced that Jimenez would step down. He was replaced by Vasant Narasimhan. According to the STAT report, Cohen approached the new CEO before the one-year agreement expired and Narasimhan declined to renew.
Later on Thursday, Narashimhan called the company's agreement with Cohen a "mistake."
Law&Crime spoke at length on the subject with Joshua Ian Rosenstein of the D.C.-based law firm Sandler Reiff Lamb Rosenstein & Birkenstock. Rosenstein is an expert in FARA and Lobbying Disclosure (LDA) compliance.
He said that, given Novartis' status as a Swiss company, public reporting and Novartis' statements, it seems likely that Novartis would be treated as a foreign principal in this case.
"Novartis AG is a Swiss company, and from public reporting—and from Novartis's own statements, it appears that the foreign company was directly involved in the agreement with Mr. Cohen," he said. "Foreign corporations undertaking political activities in the US are treated as foreign principals under FARA."
Under 22 U.S.C. § 611(b) a "foreign principal" means:
(1) a government of a foreign country and a
foreign political party;
(2) a person [which includes a corporation] outside of the United States, unless it is established that such person is an individual and a citizen of and domiciled within the United States, or that such person is not an individual and is organized under or created by the laws of the United States or of any State or other place subject to the jurisdiction of the United States and has its principal place of business within the United States; and
(3) a partnership, association, corporation, organization, or other combination of persons organized under the laws of or having its principal place of business in a foreign country.
It seems (3) particularly fits what Novartis is — "having its principal place of business in a foreign country."
Cohen appears to have engaged Novartis in New York in "political activities for or in the interests of such foreign principal" and within the United States solicited and collected monetary contributions related to "US healthcare policy matters."
"Neither Cohen nor Essential Consultants appears to be registered under FARA or the LDA. FARA registration would be required within 10 days of reaching agreement to perform political activities in the US on behalf of a foreign principal," Rosenstein said. "If that foreign principal is non-governmental, a foreign agent may elect to register under the LDA in lieu of FARA."
In the case of Novartis, since it is non-governmental, Cohen could have registered under LDA instead of FARA. If he did not, that could spell trouble.
Rosenstein said that violations of both FARA and the LDA are felonies, with an LDA offense carrying a maximum penalty of 5 years for "knowing and corrupt" violations and up to $200,000 in civil penalties.
For FARA, he said, the maximum penalty is $10,000 in fines and up to 5 years imprisonment for "willful" violations, calling "willful" a "less stringent standard than 'corrupt.'"
"The penalties are continuing and compounding," he added.
Former federal prosecutor Renato Mariotti told Law&Crime "It appears that Cohen may have violated FARA, but for it to be a crime, Cohen would have had to do so knowingly and willfully."
Rosenstein said that even though FARA is "rarely enforced criminally, its criminal enforcement is still more frequent than the LDA, which usually yields civil penalties and fines rather than criminal penalties."
"FARA charges are often brought as adjuncts to larger criminal behavior, such as financial crimes, and usually involve higher-profile matters," he said. "And those FARA charges are often used as bargaining chips for larger plea agreements (which is what happened with Mr. Gates, and with Gen. Flynn)."
When asked if potential communications about agreements such as the one that occurred with Novartis were privileged, Rosenstein said that if they aren't he imagines the "SDNY [Southern District of New York] will seek (and probably get) access to the details."
"Mr. Cohen likely faces significant criminal liability for his failure to properly register as a foreign agent," Stormy Daniels' attorney Michael Avenatti said. "Meanwhile, he and his attorneys appear to be more concerned about a mere $25,000 in financial transactions out of more than $3 million in our report. "
"They better get their priorities straight and quickly," he added.
Law&Crime reached out to media representatives with Novartis for comment ahead of publication. We were referred to the statement they put out on Wednesday. We reached out to Cohen's attorney Stephen Ryan for comment, but a response was not forthcoming.
Editor's note: this story was updated after publication for clarity. Novartis CEO Vasant Narasimhan's Thursday comments on the Michael Cohen agreement were also added.
[Image via Spencer Platt/Getty Images]
Have a tip we should know? [email protected]