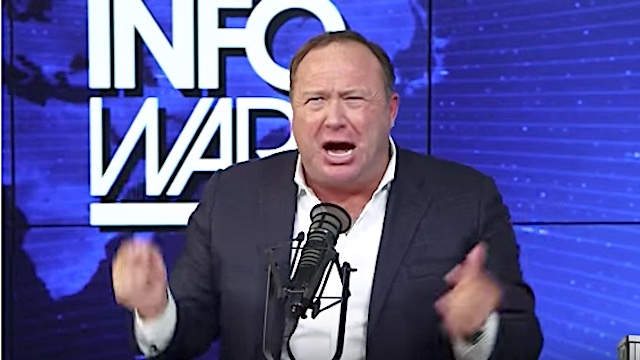 In a since-deleted post, Alex Jones's INFOWARS recently published video purporting to show embattled Texas Rep. Joe Barton masturbating. The original post, according to archives of the page, occurred November 22nd and carried Alex Jones's name as the author of the post.
Barton is in hot water for reportedly sending sexually-charged videos, messages, and photos to a woman whom he later threatened to report to Capitol Police if she exposed him, the Washington Post reports.
What is interesting, though, is the INFOWARS decision to publish the material, which seems at first blush to be a violation of a Texas "Revenge Porn" law.  The law would cover INFOWARS, which is a publication of Free Speech Systems, LLC, registered to an Austin, Texas address according to the Texas Secretary of State.
Under section 26.16 of the Texas Penal Code, it is a crime to unlawfully disclose or promote "intimate visual material."  An offense occurs if someone:
Intentionally discloses sexual recordings without consent;
The person depicted had a reasonable expectation that the recordings would remain private;
The leaking of the recordings caused harm; and
The identity of the depicted person is disclosed, including through accompanying information.
Another subsection of the statute makes it a crime to promote an offending recording "on an Internet website . . . that is owned or operated by the person."
As with many laws, the Texas "Revenge Porn" law contains affirmative defenses which function as a legal "get out of jail free" card. Doctors, police officers, and lawyers are specifically enumerated as having affirmative defenses to sharing otherwise offending recordings if the recordings are shared for legitimate purposes pursuant to their jobs.
One affirmative defense under the law is "reporting unlawful activity," though it doesn't appear that would apply to INFOWARS because the "report" was not to law enforcement.
Another affirmative defense applies if the person who shares the recording "is an interactive computer service . . . and the disclosure or promotion consists of visual material provided by another person." Texas law draws its definition of "interactive computer service" from federal law, where it generally means that the operator of a passive message board is not liable for messages posted by others. A "content provider," which is what INFOWARS is, is separate.
Interestingly, the original INFOWARS post notes that screen shots of the footage appeared on TMZ, that "Rep. Barton has claimed he is a victim of revenge porn," and that "Journalist Laura Loomer is credited with obtaining the footage."
In a series of tweets, Loomer admits giving the video to Jones at INFOWARS.
"Journalist Laura Loomer is credited with obtaining the footage" of @RepJoeBarton. @infowars @RealAlexJones https://t.co/ear0KzQR72

— Laura Loomer (@LauraLoomer) November 22, 2017
People are asking me why I gave exclusive video footage of @RepJoeBarton, a Republican, to @infowars.

I'd be a hypocrite to report on Democrats who get caught up in sex scandals and not do the same for Republicans.

You may not like what I do, but I will always keep it 100!

— Laura Loomer (@LauraLoomer) November 22, 2017
Violating the Texas law is a Class A misdemeanor. That means someone convicted of breaking it could face up to a year in jail, up to a $4,000 fine, or both.
Of course, the civil consequences of publishing the video could also be dire.
The Barton video raises memories of a lawsuit filed by Hulk Hogan against the former Web site Gawker. Hogan sued Gawker in Florida on six claims:  (1) publication of private facts, (2) invasion of privacy by intrusion upon seclusion, (3) right of publicity, (4) intentional infliction of emotional distress, (5) negligent infliction of emotional distress, and (6) surveillance of communications. The resulting jury award of $115 million in compensatory damages and $25 million in punitive damages led ultimately to a $31 million settlement and the shutdown of Gawker.com.
No word on any any Texas prosecutors will try to pursue the case. If charged or sued, INFOWARS would surely raise first amendment defenses.
[Image via InfoWars screen grab.]
[Editor's note:  This article has been updated to correct a typographical error.]
Have a tip we should know? [email protected]
Aaron Keller - Deputy Editor-in-Chief