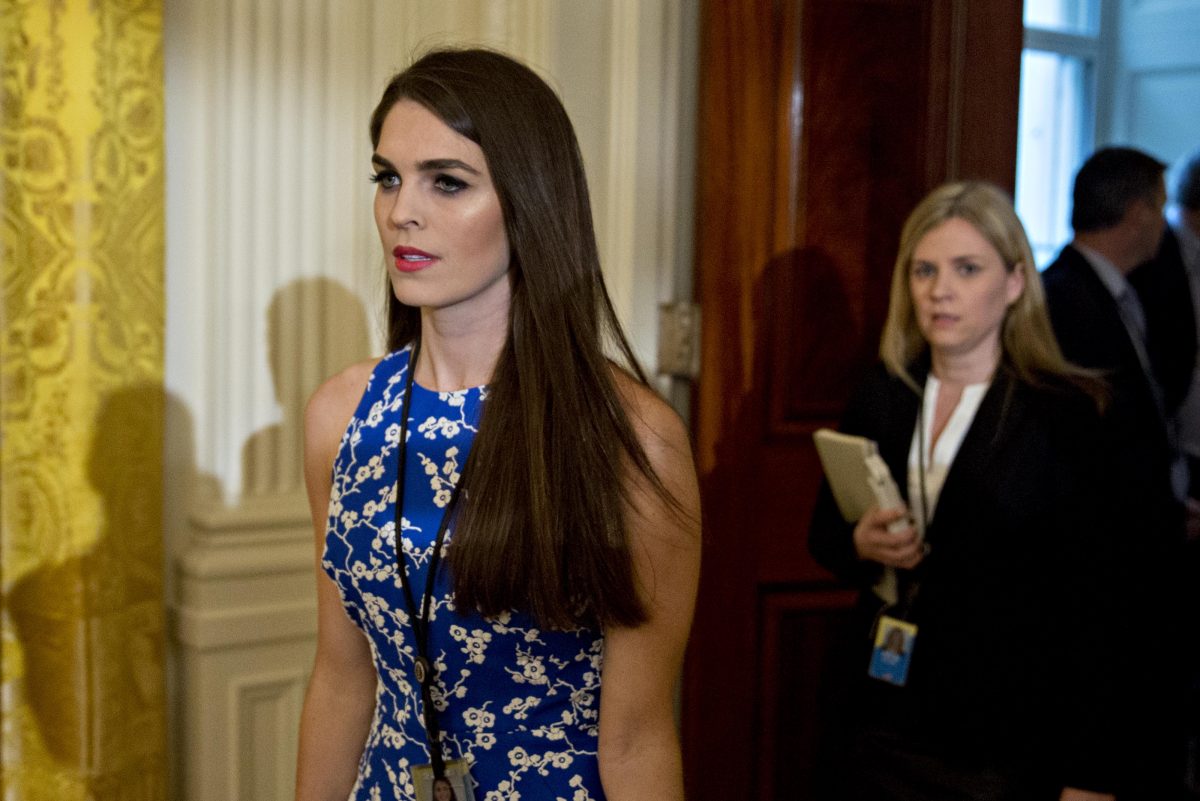 President Donald Trump's longtime trusted aide Hope Hicks had her turn this week to answer questions before the House Intelligence Committee. As per normal, leaks were rampant about what she said — but mostly what she didn't. As Special Counsel Robert Mueller moves forward with his investigation, it wouldn't be a surprise if Hicks becomes (or already has been) a critical source for the Mueller team, based on the fact that she is a highly trusted aide that has been by Trump's side from the very beginning.
Hicks, whose resignation as White House Communications Director was announced on Wednesday, has quite a few legal liabilities that could blow up in her face big time. It is no wonder she has hired the highly regarded attorney Robert Trout to help her navigate this mess. Here's a breakdown of what we know that could get her in trouble.
1. She helped draft Donald Trump Jr.'s statement regarding his meeting with a Russian lawyer
According to various reports, Mueller's team is zeroing in on the made-up story that Donald Trump Jr. first used to justify the sketchy Trump Tower meeting with a Russian attorney — who was in actuality peddling dirt on Hillary Clinton. However, instead of copping to that fact, Trump and his aides (including Hicks) scrambled to come up with a story of how the meeting was really to discuss a Russian adoption policy.
According to The New York Times, former Trump spokesperson Mark Corallo told sources that Hicks was included on a conference call with him and Trump where they discussed their response to the story about Trump Jr.'s meeting. When it came up that there were emails that undermined their version of events, Hicks reportedly said that the emails "will never get out."
Corallo reportedly expressed concern that Hicks was talking about obstructing justice by either destroying or hiding the evidence. 18 U.S.C. § 1519 prohibits destroying, falsifying, or covering up evidence "with the intent to impede, obstruct, or influence" a U.S. government investigation, with a punishment of up to 20 years in prison. Just talking about doing it probably wouldn't get Hicks in trouble, however, unless she took action to actually try to do it. Also, she may not even have been referring to doing anything with Trump Jr.'s emails. Corallo himself acknowledged that Hicks could have just meant that only a few people knew about them.
2.Lying on Trump's Behalf
One bit of information that came out of Hicks' House testimony is that she admitted that in the past she has told "white lies" on Trump's behalf. It's unclear what the context or substance of those lies were, but depending on the situation, it could be bad news for her. Hicks claimed that she never lied about anything significantly related to the Russia investigations conducted by Congressional committees or Mueller. Nevertheless, if she lied about anything, no matter how small, before Congress or the Special Counsel's office, she could be charged with a crime.
18 U.S.C. § 1001 says that anyone who "makes any materially false, fictitious, or fraudulent statement or representation"  in a matter "within the jurisdiction of the executive, legislative, or judicial branch of the Government of the United States" is guilty of a crime. Therefore, if Hicks lied during questioning, she'd be in violation. That crime carries a penalty of up to five years in prison.
She certainly wouldn't be the first one to be convicted of this. Mueller has already gotten guilty pleas from Michael Flynn, George Papadopoulos, Alex Van Der Zwaan, and Rick Gates.
3.Contempt of Congress
Like others before her, Hicks reportedly wouldn't talk about her experiences working for Trump since he took office. Steve Bannon and Jeff Sessions are among others who have refused to talk about their experiences in the Trump administration, citing executive privilege. The problem with those situations is that executive privilege wasn't properly invoked, so they didn't have any legal backing for their refusal to talk. Reports indicate that Hicks did not even try to use executive privilege. Without any legal basis for refusing to answer questions, she could be held in contempt of Congress.
2 U.S.C. § 192 says:
Every person who having been summoned as a witness by the authority of either House of Congress to give testimony … who, having appeared, refuses to answer any question pertinent to the question under inquiry, shall be deemed guilty of a misdemeanor[.]
A violation of this law could bring a penalty that includes a fine of up to $1,000 and between one and 12 months in prison.
Hicks has been with Trump since the beginning, going back to her days with the Trump Organization and was one of his most trusted aides, at least until her resignation. If there's any dirt on the president, she's likely to have it. Mueller has been collecting some valuable informants through guilty pleas already. If he had something on Hicks, he might be able to add the most valuable one of all.
Note: After the publication of this article, it was reported that Hicks resigned as Communications Director. This article has been updated to reflect this.
[Image via Andrew Harrer Pool/Getty Images]
Have a tip we should know? [email protected]