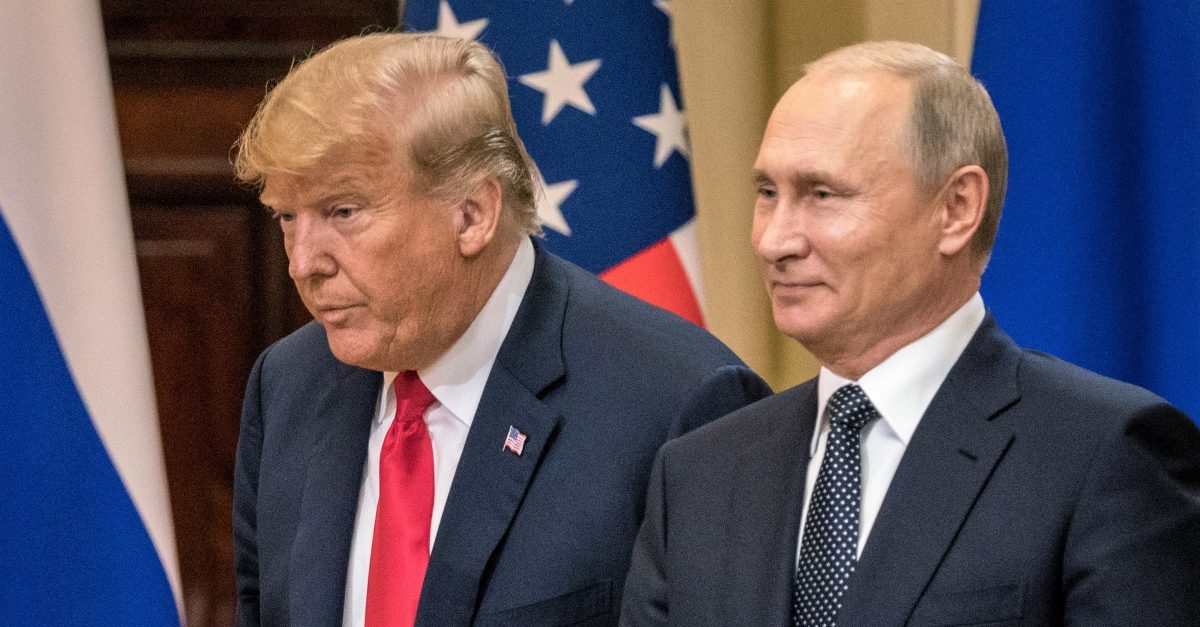 First, Michael Cohen confessed to lying about the details of his contacts with Russia regarding a Trump real estate deal during the 2016 presidential campaign. Now, details of what's being referred to as the Moscow Project show that part of the plan may have been illegal, even if Donald Trump hadn't been running for president.
According to BuzzfeedNews, when the Trump Organization was negotiating the deal, they had considered giving Russian president Vladimir Putin a $50 million penthouse apartment at the Trump Tower in Moscow.
While the report noted the concerns raised by financial dealings between the Russian president and the company owned by the current U.S. president, there are other legal issues here having nothing to do with politics.
Legal twitter was quick to point out the relevance of the Foreign Corrupt Practices Act of 1977.
The Foreign Corrupt Practices Act prohibits corruptly offering a thing of value to a foreign official in order to try to obtain business. https://t.co/dixz3rdGI9

— Randall Eliason (@RDEliason) November 30, 2018
You've got to hand it to Trump. He continues to offer Americans an education into how criminal law works. Next up, the Foreign Corrupt Practices Act (FCPA), with a side helping of attempt & conspiracy. https://t.co/3usixX2j55

— Joyce Alene (@JoyceWhiteVance) November 30, 2018
The Foreign Corrupt Practices Act was passed to make it  "unlawful for certain classes of persons and entities to make payments to foreign government officials to assist in obtaining or retaining business," according to the Department of Justice's website.
One issue to consider in whether or not the Trump Organization's plan would have violated the Act is the motivation behind the gifted penthouse.
Felix Sater, the Russian convicted felon who was part of the talks, said the plan was to bring Putin into the building to attract others.
"My idea was to give a $50 million penthouse to Putin and charge $250 million more for the rest of the unit," Sater told BuzzFeed News. "All the oligarchs would line up to live in the same building as Putin."
The Act plainly prohibits offering or giving money or a thing of value for the purpose of "inducing such foreign official to use his influence with a foreign government or instrumentality thereof to affect or influence any act or decision of such government or instrumentality … to assist such issuer in obtaining or retaining business for or with, or directing business to, any person."
Sater's statement walks the line between savvy business move and illegal offer. He clearly says that an offer to Putin would have been in order to use him to draw business from others. If the idea behind this is that Putin's mere presence would draw business without Putin doing anything, that might work. If the idea was for Putin to talk to his associates about the Moscow Trump Tower and thus actively help Trump's business, that could cross the line.
There's also the question of whether there was any other motivation behind this. If the Trump Organization wanted to give Putin a free penthouse in order to incur his favor for political gain, that would also be a problem.
The Act also prohibits making an offer or payment of money or a thing of value for the purpose of "influencing any act or decision of such foreign official in his official capacity" or "securing an improper advantage."
President Trump tweeted Friday morning that his business dealings were "very legal & very cool." Depending on the exact nature of the penthouse plans, that may not be true.
Ronn Blitzer is the Senior Legal Editor of Law&Crime. Follow him on Twitter @RonnBlitzer.
[Image via Chris McGrath/Getty Images]
Have a tip we should know? [email protected]