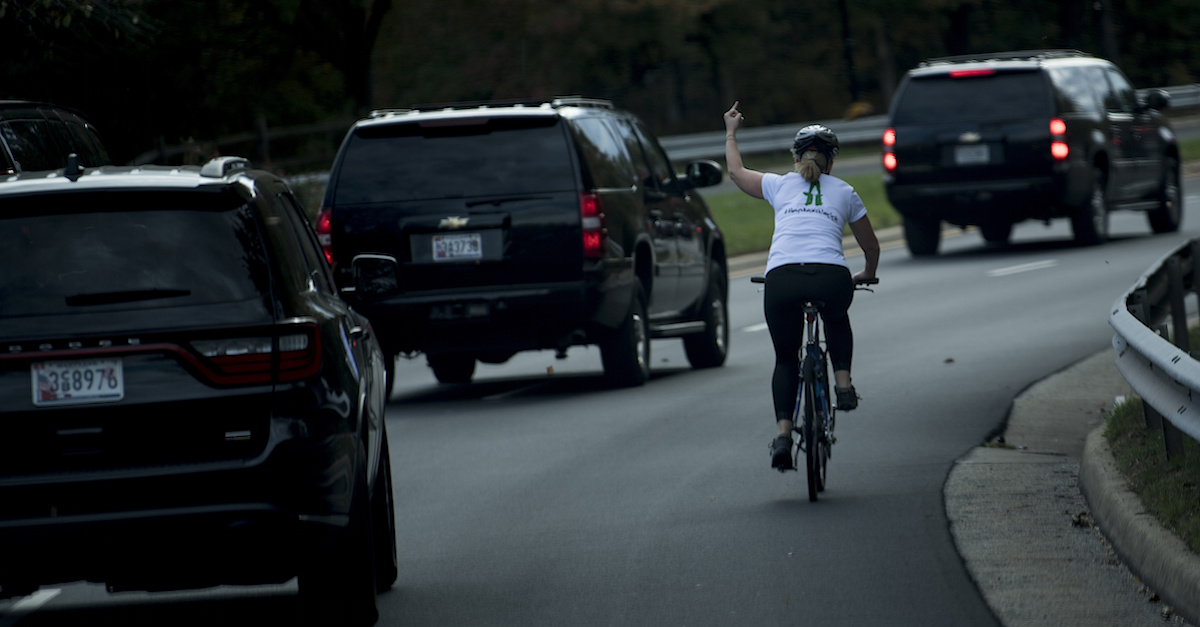 Juli Briskman, the cyclist who was infamously photographed flipping off President Donald Trump's motorcade as it passed in October 2017 and lost her job, has now seen her wrongful termination claim tossed out of court.
Judge Penney Azcarate dismissed the claim on Monday, only allowing Briskman to pursue more severance pay. Judge Azcarate ruled that Briskman has 21 days to amend her complaint against her former employer Akima LLC for being shorted on severance pay.
This is salt in the wound, considering the damages Briskman was seeking.
As Law&Crime previously reported, Briskman, a 50-year-old single mom to two teens, sued Akima LLC for both wrongful termination and breach of contract, alleging that Akima LLC violated Virginia employment law by firing Briskman to protect its government business interests. She said that her termination amounted to government censorship, even if the government wasn't involved in her firing. In other words, she alleged that her right to free speech were violated by the firing.
"Government censorship no longer needs to rely on the heavy hand of the censor," the complaint said. "Instead, around the world, autocrats are increasingly relying on private companies that have interests in government contracts and benefits to silence their employees for them."
Akima LLC's lawyers successfully argued that there is "no public policy exception to Virginia's at-will employment statute," Above the Law noted,
"At will" employment means employer or employee can terminate an arrangement "at-will on giving reasonable notice of its intention to do so." It is worth mentioning that "reasonable notice" in Virginia has been found not to mean "advance notice."
Briskman also argued that actions taken against her by the company were "inconsistent" with actions taken against another employee who posted, "You're a fucking Libtard asshole," in a Facebook discussion about Black Lives Matter.
The breach of contract allegation, which is the claim the judge okayed, was related to severance pay. Briskman said she was promised four weeks of severance pay and was only given two weeks' pay.
[Image via Brendan Smialowski/AFP/Getty Images]
Have a tip we should know? [email protected]