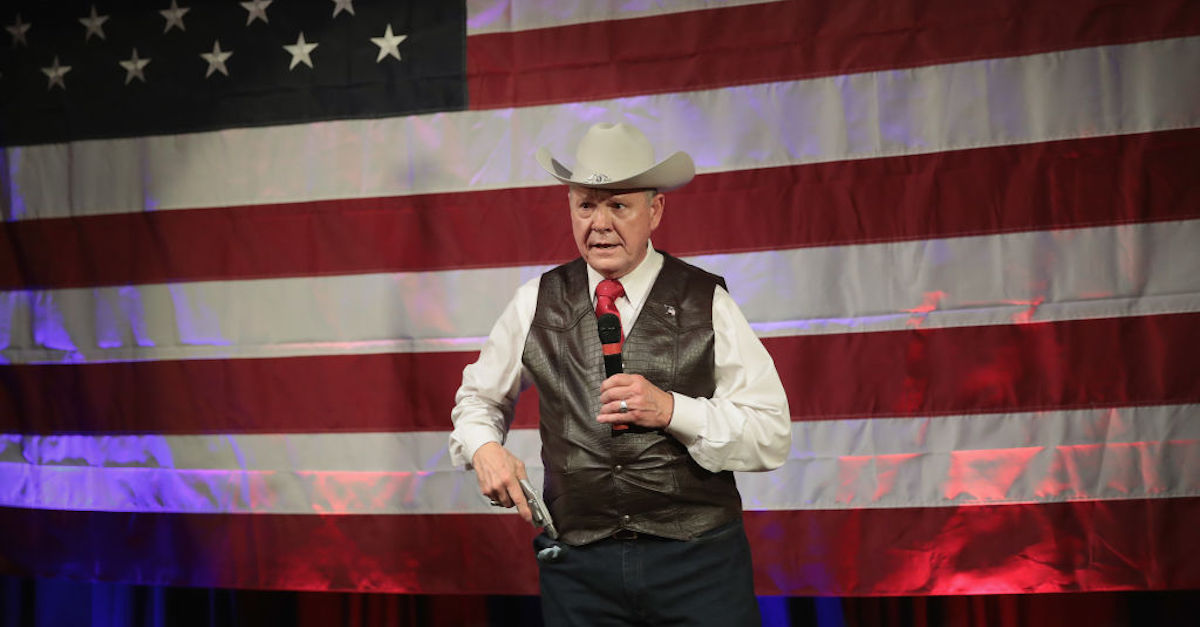 Failed Republican Senate candidate and accused sexual predator Roy Moore has filed a defamation lawsuit against a Super PAC that ran ads against him during Alabama's 2017 special election.
According to Moore's attorney, Melissa Isaak, Highway 31 Super PAC ran defamatory and misleading ads focused on various allegations of sexual impropriety–including the charge that Moore had been banned from the Gadsden Mall due to his aggressive courtship practices directed at young women who worked there.
According to the lawsuit:
The "shopping mall" ad ran hundreds of times on network TV in Alabama during the two weeks before the election. Yet, by Monday, November 27, the day the ad began running, defendants had information available to them and known to them that the mall ban story was fictitious.
Moore's lawsuit cites the testimony of multiple former and longtime employees of the Gadsden Mall who disputed the accusations in various statements provided to the media at the time of the original controversy.
One former employee, Johnnie V. Sanders, noted that similar charges were made against another prominent Alabama man who was not Moore, but declined to supply his name "due to respect for the family." Sanders noted, "Despite allegations against other patrons of the mall, I never heard of Roy Moore's name come in conversation with any such misconduct against women or a supposed banning from the Gadsden Mall."
Moore's 25-page complaint also takes aim at Highway 31 for a series of digital ads, some of which caught the ire of Alabama Secretary of State John Merrill. One such ad, which was a video promoted on YouTube, alleged:
If you don't vote, then Roy Moore a child predator wins. Could you live with that? Your vote is public record and your community will know whether or not you helped stop Roy Moore. On Tuesday, December 12th, vote for Doug Jones for Senate.
This ad was so misleading that Merrill eventually approached Google and YouTube as to the wholly inaccurate statement that a voter's ballot choice would be a matter of public record. Merrill only approached the media and tech companies after  attempting in vain to have the ad voluntarily pulled by Highway 31. Ultimately, YouTube removed the ad.
During a press conference with Moore and his wife, Isaak said, "The Moores have every intention of fighting back."
The lawsuit also alleges intentional infliction of emotional distress, wantonness and loss of consortium–while also accusing the named defendants of engaging in a conspiracy against Moore–and seeks general compensatory and punitive damages.
[image via Scott Olson/Getty Images]
Follow Colin Kalmbacher on Twitter: @colinkalmbacher
Have a tip we should know? [email protected]