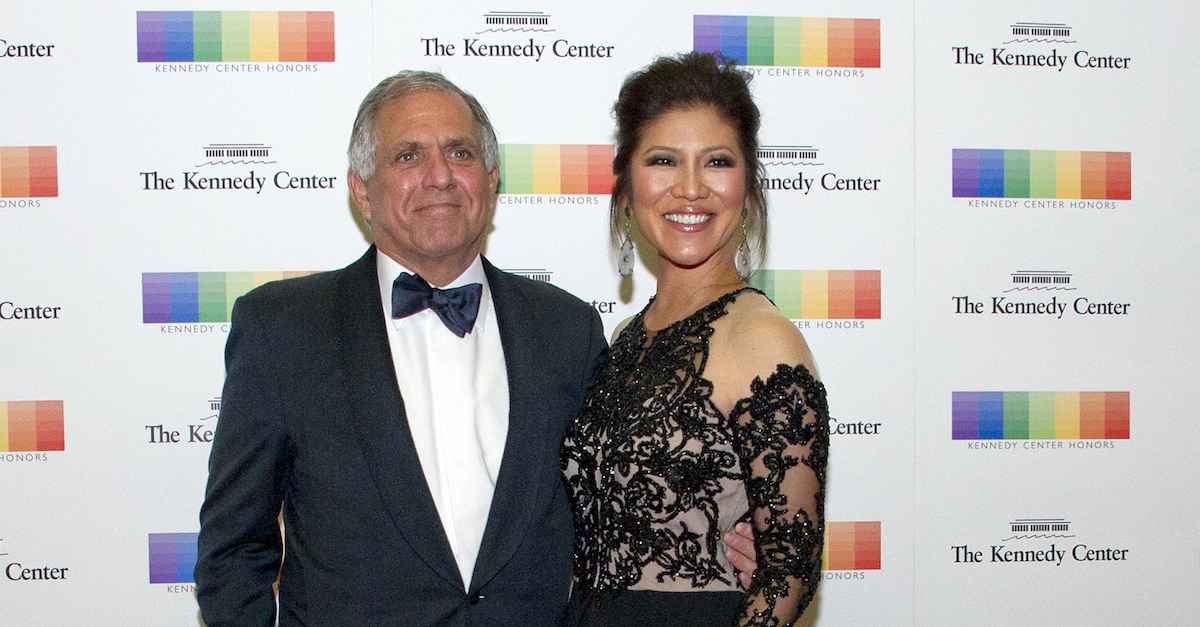 After much anticipation, the New Yorker has indeed published Ronan Farrow's report on CBS Chairman and CEO Leslie "Les" Moonves. Earlier Friday, word got out the big wig's #MeToo reckoning was soon to arrive. Now that it has, indeed, arrived, here are the top five bombshells you should know about. It was promised that Farrow would serve up some Harvey Weinstein-style tales of sexual misconduct, and that's what he did. The article is a profile of a powerful media executive who allegedly used his position to forcibly kiss women, demand sex from them, and hurt their careers if they turned him down.
1. Six women
Six women stepped forward. They claimed that Moonves harassed them between the 1980s and the late 2000s.
Four alleged forcible touching or kissing during business meetings. They claimed these seemed to be routine. Two said Moonves physically intimidated them or threatened to hurt their careers.
2. Alleged M.O.: Forcible kissing during meetings
According to the women, Moonves took advantage of his professional connections with the women and harassed or forcibly touched them during meetings.
One of the women was described as a "prominent actress who played a police officer on a long-running CBS program" that was popular in the late 1980s. She didn't want her real name to be used out of fear of retaliation.
The woman said she set up a lunch meeting with Moonves after she was surprised that a serial deal with CBS was canceled. During the meeting, he allegedly made a pass at her. She later said she had to leave, and when she walked over to give him a kiss on the cheek, he grabbed her and "shoved his tongue down my throat," she said. "I mean shoved." [Emphasis theirs.] She added, "No one had ever done that to me before. I found it sickening."
3. Allegedly more than just forcible kissing
Actress and writer Illeana Douglas claimed Moonves made a pass at her when they were at his office discussing a script. He asked if she was single, she said. Douglas said no. He asked to kiss her and insisted after she rejected him, she said. Then he allegedly went ahead and did it anyway by "violently kissing" her while holding her down on the couch (with her arms over her head).
"You sort of black out," she said. "You think, How long is this going to go on? I was just looking at this nice picture of his family and his kids. I couldn't get him off me."
Then he went further than that, according to her. He pulled up her skirt and thrust against her, she said. That's when, according to her, she managed to get out of the situation by joking. But not before he backed her against a wall, and told her to keep it between them, she said.
"It was so invasive," she said. "It has stayed with me the rest of my life, that terror."
She called it a sexual assault.
4. Allegedly hurting careers
Writer Janet Jones said Moonves tried to forcibly kiss her in a meeting in 1985. When she tried to leave his office, she discovered the door was locked, she said.
"If you don't open this door, I am going to scream so loud and so long that everyone on the lot is going to come over," she recalled telling him.
On her way out, she discovered the assistant was gone, and that made her believe this was a routine thing, she said.
Then, according to her, Moonves later called her on the phone and made a threat. "People's reputations are important," he allegedly said. "Do you understand? I'm warning you. I will ruin your career. You will never get a writing job. No one will hire you. Do you understand what I'm saying to you?"
Illeana Douglas also claimed Moonves started chewing her out on the set of the comedy show "Queens."
This culminated with her getting fired from both the show and by her agent, too.
I love the way C.A.A. fired me," she said. "They never told me I was fired. They just kept wishing me the best of luck."
The "prominent actress" said she never worked for CBS ever again.
5. It was allegedly more than just Moonves
As described by 30 current and former CBS employees, this was a top-down problem, from Moonves to "60 Minutes."
Jeff Fager, the executive producer of "60 Minutes" and former chairman of CBS News, was also accused of allowing harassment in his division.
One woman told Farrow that CBS' legal department showed a "lack of seriousness and regard" for her complaint about Fager and alleged "60 Minutes" sexual harasser Ira Rosen. (Rosen denied allegations against him.)
The company's chief compliance officer, for its part, told The New Yorker that they investigate all complaints, issue remediation, and protect complainants against retaliation.
Moonves denied wrongdoing in the story, though he acknowledged making "some women uncomfortable."
"I recognize that there were times decades ago when I may have made some women uncomfortable by making advances," he said in a statement. "Those were mistakes, and I regret them immensely. But I always understood and respected—and abided by the principle—that 'no' means 'no,' and I have never misused my position to harm or hinder anyone's career. This is a time when we all are appropriately focused on how we help improve our society, and we at CBS are committed to being part of the solution."
He acknowledged attempting to kiss Douglas, but denied his advance being sexual assault, chewing her out, or personally firing her.
CBS responded in advance of the story's publication and said it would take the allegations "seriously."
Moonves is 68 years old and has been married to Julie Chen since 2004. If you've seen the reality TV show Big Brother, then you've seen Julie Chen. If you haven't, Chen is pictured above.
Moonves has been with CBS since 1995 and has been credited with helping skyrocket CBS in the ratings with shows like Everybody Loves Raymond and Survivor. He reportedly became CBS Corp. chairman in 2016, but has been president and CEO since 2006.
The Farrow story could be the worst hit to the CBS image since CBS This Morning anchor Charlie Rose was fired. You may recall that numerous women accused Rose of sexual misconduct and harassment; his news career promptly ended. Rose was accused of walking around naked in front of women (including an assistant), sharing sexual fantasies, groping and pressing his body up against a woman in an "animalistic" way. What's more, allegations like this were called an open secret.
CBS is far from the only organization of its kind to have high-profile employee scandals of this nature. Consider Matt Lauer's ouster from NBC a prime example. As an aside, CNBC reported that CBS stock was falling in advance of the story.
[Image via Ron Sachs/Pool/Getty Images.]
Have a tip we should know? [email protected]