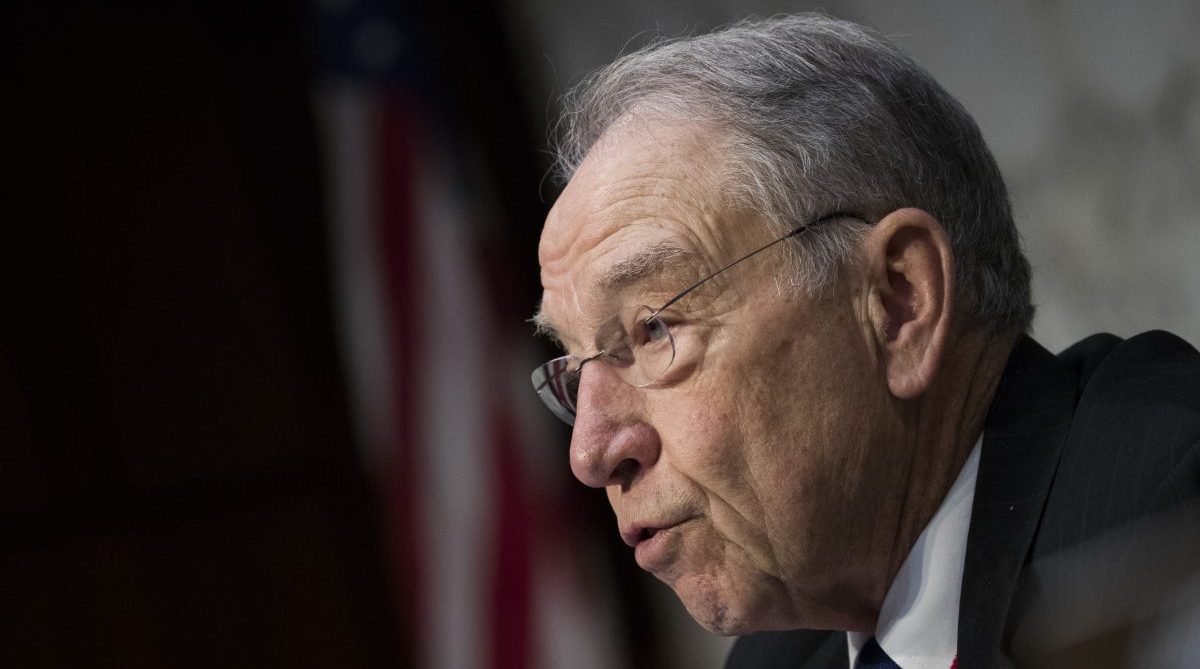 Senator Chuck Grassley (R-Iowa) has been accused of leading a "cover-up" over thousands of unreleased documents related to Supreme Court nominee Brett Kavanaugh's time in government.
The Alliance for Justice (AFJ) issued a press release on Friday making the charge against Grassley. That release says:
Senate Judiciary Chairman Grassley announced his unilateral decision to request for review only a portion of the records pertaining to Supreme Court nominee Brett Kavanaugh's tenure in the George W. Bush White House. Such a unilateral request, made without agreement by the Ranking Member and over the objections of Senators calling for all records to be released, is highly unusual. In addition, the request excludes records from Kavanaugh's employment as Staff Secretary to President Bush, which he himself has called formative period in his career and one that informs his work as a judge.
Kavanaugh has worked in government and GOP politics for a large portion of his adult life. From 2001 to 2006, he worked for the Bush administration serving under White House Counsel Alberto Gonzalez and later as assistant to the president and White House staff secretary. Prior to his time in the Bush White House, Kavanaugh worked on the 2000 Bush campaign–specifically the Florida recount. Before that, he served as Associate Counsel in the Office of the Independent Counsel under Kenneth Starr. Kavanaugh distinguished himself as a principal author of the Starr Report to Congress, which urged the impeachment of then-President Bill Clinton.
Kavanaugh's lengthy time in government has resulted in a massive paper trail. But many of those papers are currently inaccessible because the Trump administration is withholding tens of thousands of Kavanaugh-related documents.
The National Archives and Records Administration (NARA) is currently withholding some 20,000 documents–and has notified interested parties that releasing such documents in line with the mandated timeline provided by the nation's Freedom of Information Act (FOIA) is unlikely to occur. Thousands of other Kavanaugh-related documents are presently being kept under wraps by the Department of Justice (DOJ)–which has so far refused to substantively answer FOIA requests as mandated by law.
Due to apparent dual agency stonewalling, both NARA and DOJ are now subject to a lawsuit by non-partisan legal watchdog group Fix the Court. Journalists and advocates had hoped that Grassley's committee would speed up or force the release of Kavanaugh's documents. Those hopes, however, appear to have been premature.
AFJ's Laurie Kinney issued a statement. She said:
It couldn't be more obvious that Republicans are very worried about something in Kavanaugh's record at the White House, and today Chairman Grassley doubled down on the cover-up. The only question is what they're hiding, because Kavanaugh was at George W. Bush's side during some of the most controversial actions the administration took. Those include the faulty pretext for going to war in Iraq, decisions to authorize torture, the treatment of detainees, the warrantless wiretapping scheme, and more. And it's still an open question whether Kavanaugh misled Senators at his confirmation hearing to become a circuit court judge, when he denied working on these issues — only to have it come out in media reports that he took part in White House deliberations over detainee treatment. The American people have a right to know what a person up for a lifetime Supreme Court position has done in his career, and Republicans need to stop trying to hide it.
The AFJ is a national coalition of 130 distinct organizations. According to their website, the group is "committed to progressive values" and "works to ensure that the federal judiciary advances core constitutional values, preserves human rights and unfettered access to the courts, and adheres to the even-handed administration of justice for all Americans."
Law&Crime reached out to Senator Grassley's office, but no response was forthcoming at the time of publication.
[image via Drew Angerer/Getty Images]
Follow Colin Kalmbacher on Twitter: @colinkalmbacher
Have a tip we should know? [email protected]