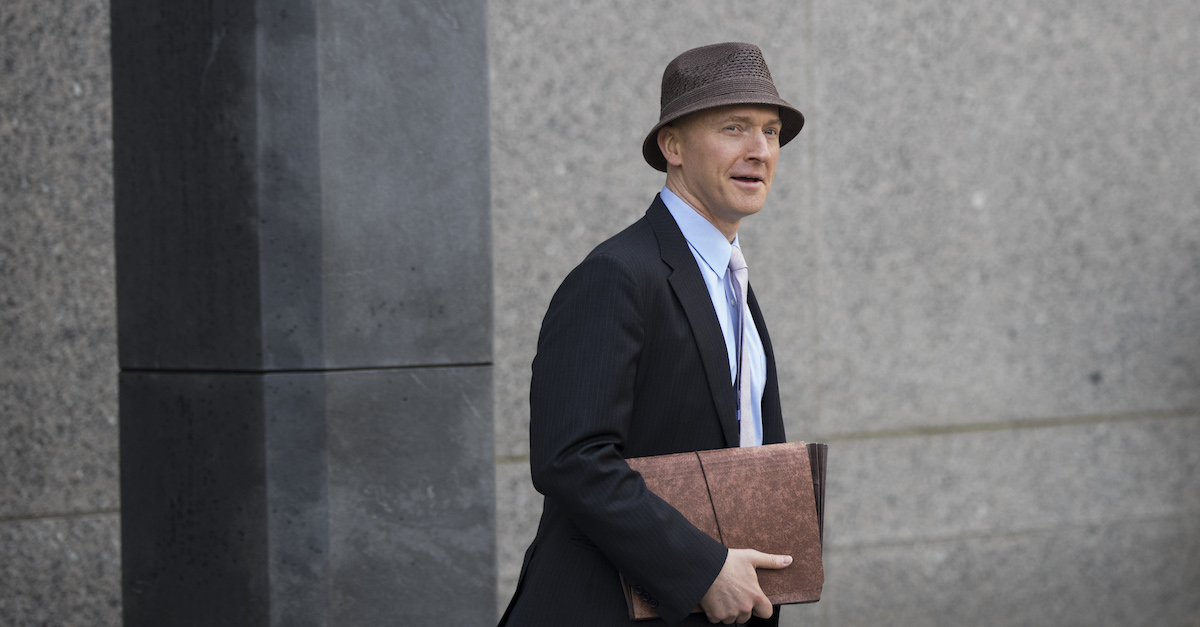 Former Trump campaign adviser Carter Page has been unsuccessful in his attempt to sue the Democratic National Committee (DNC) and law firm Perkins Coie over alleged damages stemming from Christopher Steele's dossier. On Thursday, months after the lawsuit was dismissed, the judge denied Page's motion for an altered or amended judgment.
Page relentlessly waged his legal battle over the DNC, Perkins Coie, and Perkins Coie lawyers Marc Elias and Michael Sussman. Page had claimed that he had been defamed by information in the Steele dossier that had been reported by media outlets. The dossier was part of research done for Fusion GPS, a company reportedly hired by Perkins Coie, which had been working for the DNC and Clinton campaign. Page also claimed that Elias and Sussman in particular leaked information about him that was reported in the media.
Chief Judge Joe Heaton of the Western District of Oklahoma never weighed in on the merits of Page's case, ruling in January that his court didn't have jurisdiction over that matter because the defendants aren't based in Oklahoma, nor were their alleged acts targeted at the state.
After the case was dismissed, Page filed additional documents providing what he claimed was evidence that the case was indeed connected to Oklahoma. He cited threats that he received from someone with an Oklahoman phone number that he said were inspired by allegations made about him and Russia in the dossier.
In Thursday's order, Judge Heaton explained that the evidence Page provided "does nothing to undercut the court's conclusion that there has been no showing that the defendants purposefully directed their activities at Oklahoma [emphasis in original]."
The judge also noted that the evidence was "essentially the same" as the evidence Page relied on in a previous court filing before the case was dismissed. He also clarified that one of the Federal Rules of Civil Procedure that Page cited in his motion doesn't apply, because it only deals with cases where a decision was reached after a trial.
Because Page did not show evidence of "manifest errors of law" or put forward "newly discovered evidence," the judge said his motion is denied.
Page told Law&Crime following the decision that he plans to appeal.
Order on Motion to Alter Ju… by on Scribd
[Image via Drew Angerer/Getty Images]
Have a tip we should know? [email protected]