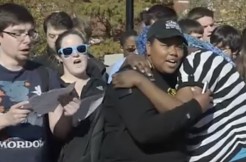 Gallup, the Knight Foundation, and the Newseum Institute recently came out with this fascinating poll on free speech in college campuses. They say that students largely support freedom of expression in schools more so than adults (78 percent to 66 percent), but that comes with a qualification.
"At the same time, students are willing to accept some limitations on free expression, particularly that which is done to intentionally hurt or stereotype members of certain groups," the study says. "Most college students believe that the steps their school has taken to discourage certain kinds of speech are appropriate, even though more agree than disagree that such steps may create an environment that inhibits free expression."
All in all, 71 percent of students say their colleges have done a good job discouraging behavior and speech offensive to certain groups of people. 20 percent say those institutions haven't gone far enough, and 7 percent say they've gone too far.
It's a strange finding, built on apparent contradictions, pollsters say. Things get more complicated when the study talks about the press on campus.
Black and female college students were the most likely to say that reporters could be barred from public gatherings if 1) the reporter is perceived as biased, 2) the students want to be left alone, and 3) the protesters wanted to be the ones to tell their story in social media. Overall, 30 percent of students were open to restricting press access compared to 26 percent of adults.
The poll suggests an explanation about that last bit. Only half of students trust old school news outlets. The rest would rather go online for social media, and newer sources like BuzzFeed. Nonetheless, an overwhelming 9 in 10 say that a free press is important to democracy.
You can check out the study here, see what you think. It's a good read.
[h/t Fox Baltimore]
[image of University of Missouri protest via Fox News screengrab]
–
Follow Alberto Luperon on Twitter (@Alberto Luperon)
Have a tip we should know? [email protected]