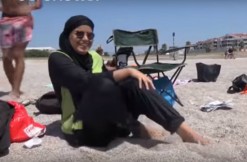 On Wednesday, Christian Estrosi threatened lawsuits against people who shared pictures or videos of police enforcing the French burkini ban. If you don't know what all this is about, the burkini is a full body alternative to the bikini. It's worn by some Muslim women, but as former French president Nicolas Sarkozy recently claimed, "Wearing a burkini is a political act, it's militant, a provocation." To date, 26 French towns have enacted a ban. One of these towns is Nice, where Estrosi is the deputy mayor. Tensions in Nice are particularly high after a Muslim man drove a truck into a crowd, killing 86 people.
Estrosi's statement, released Wednesday, has been making the rounds.
Photos de nice#Estrosi parle de provocation de manipulation et de mise en danger des policiers municipaux…
#Nice06 pic.twitter.com/JDYNAG9kfg

— NiceRendezVous (@actualites_nrv) August 24, 2016
In the tweet, Estrosi said the images will incite anti-police threats and statements. He even claimed there's already legal action against people who spread such photos, and those who threatened cops on social media.
He's talking about pictures like these.
Police in Nice forced a woman to remove part of her clothing while enforcing burkini ban https://t.co/mQk6z5DeCF pic.twitter.com/gqipXL9bt3

— CNN (@CNN) August 24, 2016
This comes after outlets like CNN and The Guardian have been reporting on an incident where Nice police enforced a local burkini ban against a Muslim woman. She said she was made to take off some clothes, and was ticketed.
The ban has led to no small amount of controversy. Generally, proponents say such bans protect locals. Opponents say it is bigotry, and that Muslims are being unfairly targeted.
muslim women want to go to the beach wearing the clothes they feel comfortable wearing. it's not that deep.

— sarah hagi (@geekylonglegs) August 25, 2016
[Screengrab via euronews]
–
Follow Alberto Luperon on Twitter (@Alberto Luperon)
Have a tip we should know? [email protected]