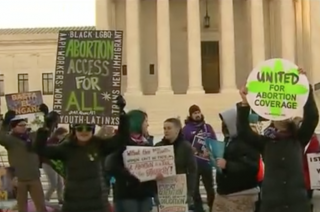 Wow, Missouri. Still trying, huh?
Monday's Supreme Court decision in Whole Woman's Health v. Hellerstedt made it absolutely clear that states may not condition abortions on their taking place in hospitals. Despite the ruling, however, Missouri looks like it is planning to keep doing just that while hoping it doesn't get caught.
I called the Missouri Attorney General's office to ask what legislative changes it would be making in response to the recent SCOTUS ruling. Nanci Gonder, Press Secretary for Missouri's Attorney General, provided LawNewz.com with this statement:
"Monday's Supreme Court ruling calls into serious question the constitutionality of certain Missouri laws."
That's putting it mildly.
Let's recap what happened in Whole Woman's Health v. Hellerstedt). SCOTUS ruled that the Texas abortion law was unconstitutional because it required that: 1) abortion doctors have hospital admitting privileges; and 2) facilities meet the strict standards of surgical centers.
And hey, don't take my word for it. Here's the text of the opinion:
"We must here decide whether two provisions of Texas' House Bill 2 violate the Federal Constitution as interpreted in Casey. The first provision, which we shall call the "admitting-privileges requirement," says that "[a] physician performing or inducing an abortion . . . must, on the date the abortion is performed or induced, have active admitting privileges at a hospital that . . . is located not further than 30 miles from the location at which the abortion is performed or induced." Tex. Health & Safety Code Ann. §171.0031(a) (West Cum. Supp. 2015)…

The second provision, which we shall call the "surgical- center requirement," says that "the minimum standards for an abortion facility must be equivalent to the minimum standards adopted under [the Texas Health and Safety Code section] for ambulatory surgical centers." Tex. Health & Safety Code Ann. §245.010(a).

We conclude that neither of these provisions offers medical benefits sufficient to justify the burdens upon access that each imposes."
So that's pretty clear. Requiring that abortions only happen in ambulatory surgical centers is overly burdensome. Got it.
Now let's take a look at the Missouri abortion law:
"188.025. Every abortion performed at sixteen weeks gestational age or later shall be performed in a hospital."
It seems to me that the only difference between Missouri's requirement that abortions be performed "in a hospital" and Texas' requirement that they be performed someplace that meets the standards of an "ambulatory surgical center" is that the Missouri standard is even stricter than the Texas one. Another way to put it: if Texas' requirements were too harsh to be constitutional, Missouri's have no chance in hell of surviving.
Despite the conclusion that Missouri's law is unconstitutional being beyond obvious, the Missouri Attorney General's Office pretty clearly indicated that it wasn't sold on the idea that the ruling in Whole Woman's Health necessarily invalidated its law.
Ms. Gonder's statement continued:
"However, the Court's decision turned on the applicability of facts specific to Texas. Additional factual evidence must be developed here for a judicial determination regarding the impact of the ruling on Missouri law."
Additional evidence "must be" developed in order for Missouri to figure out what SCOTUS would say about its law? What evidence could possibly be relevant to such an inquiry? Is the Missouri AG going to form a task force to investigate how Texan women seeking abortions are completely different from Missouri women seeking abortions? Seriously, people. If lawmakers and law enforcement in Missouri have this much trouble making reasonable legal inferences, they're in the wrong business. As a lawyer, I get that our obligation of zealous advocacy sometimes requires us to make creative arguments that are unlikely to prevail. But some arguments should not even be made. And this is one of them.  Missouri's stance isn't even in line with what other similarly-situation states are doing after the SCOTUS ruling.  Alabama's attorney general, for example, has already committed to stoping enforcement of its hospital privileges requirement. Missouri's government should be spending its time crafting and enforcing laws that it has a good-faith basis for believing would withstand constitutional scrutiny – not dreaming up new ways to be obtuse at the taxpayers' expense.
Today, a Planned Parenthood clinic in Columbia, Missouri will lose its abortion license, because its doctor does not have hospital privileges. Everyone in play here – the doctor, Planned Parenthood, and the State of Missouri – all know that the hospital-privilege requirement is unconstitutional; yet, this clinic will be forced to turn patients away if Missouri opts blatantly to disregard federal law.  That reality will light the fuse on several otherwise-unnecessary lawsuits. Planned Parenthood will sue Missouri. Women seeking abortion in St. Louis will sue Missouri. Missouri will find some way to sue Planned Parenthood or the federal government or someone. And round and round it will go.  In Planned Parenthood's statement to LawNewz.com, it summed up the effect of the SCOTUS ruling as follows: "[Planned Parenthood of Kansas and Mid-Missouri] faces identical restrictions in Missouri and Kansas, and will examine all legal avenues along with our partners to invalidate these unconstitutional and medically unnecessary laws that place an undue burden on patients seeking safe and legal abortion in our states."
If Missouri continues to make public statements suggesting that it is not bound by Whole Woman's Health, it will do so for one of two indefensible reasons. Either Missouri would be gathering support for a legal battle with Planned Parenthood that it will certainly lose, or Missouri plans to voluntarily revise its law, and would be attempting to do so discretely, minus the fanfare of admitting that it was smacked down by SCOTUS. Both scenarios are obviously motivated by politicians doing their best to save face with a powerful pro-life electoral base. But the first is especially disturbing in its creation of absolutely inexcusable waste.
Most troubling, though, is the Missouri government's abdication of its responsibility to its own citizens. The average American isn't sitting around digesting Supreme Court decisions. People rely on their officials to keep up on what's happening in Washington and run their state effectively and appropriately. Public statements that mischaracterize the effect of a major ruling on state law and policy are irresponsible, and Missouri can do better.
Follow Elura Nanos on Twitter @elurananos
Have a tip we should know? [email protected]
Elura Nanos - Columnist & Trial Analyst, Law & Crime; CEO Lawyer Up