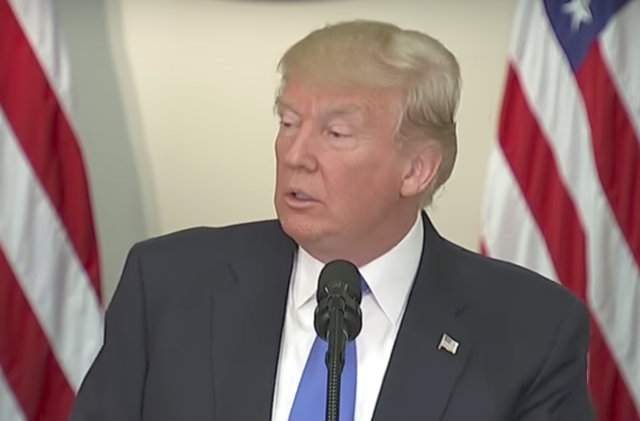 Students at UCLA published a report that studied President Donald Trump's tweets and speeches over the course of more than two years, explaining how his language shows an anti-immigrant bias and "false narrative." The study was filed in court along with an amicus brief by 15 state attorneys supporting a lawsuit in favor of DACA (Deferred Action for Childhood Arrivals). Earlier this year, President Trump repealed DACA, which was instituted by President Barack Obama as a temporary measure to help children brought into the United States illegally by their parents.
The UCLA study looked at more than 6,000 tweets and 300 speeches from Trump, during both his campaign and presidency. It claims that Trump used generalizations and loaded words to promote the idea that immigrants–particularly Latinos–are criminals, Mexico is an enemy, and that Trump will protect American citizens, who are victims of an invasion of criminal aliens.
For example, they cite a tweet from June 22 of this year, where Trump said, "Mexico was just ranked the second deadliest country in the world after only Syria. Drug trade is largely the cause. We will BUILD THE WALL!"
Another, from June 20, 2015, where Trump said, "Mexico is killing the United States economically because their leaders and negotiators are FAR smarter than ours. But nobody beats Trump!"
Then there was Trump's infamous comment that Mexico was "sending their criminals."
People are flowing into this country. People in many cases, who are very bad. They are sending their criminals and they are not going to help us. I'm sure there's going to be some wonderful people, but for the most part those people are not going to be helping. We are getting criminals, gang members, the worst of the worst, and were just letting them flow right in. And now they're going to be voting? The Democrats like this and they wanted to help.
Another tweet, from August 11, 2015, is used as an example of Trump mentioning a specific instance in order to cultivate a general impression that illegal immigration is a problem:
Again illegal immigrant is charged with the fatal bludgeoning of a wonderful and loved 64 year old woman. Get them out and build a WALL!
"There are statements made by Trump that, in my opinion, openly express animosity towards immigrants," Professor Robert Chang of Seattle University School of Law, who filed the study, said to Univision. "That is why this analysis of his speech is important."
The idea behind the study is to show that Trump's decision to end DACA was unconstitutional because it was racially motivated. Of course, DACA itself wasn't a law, but a system of policies meant to protect certain undocumented immigrants. Obama put DACA in place because Congress had failed to pass legislation, commonly known as the DREAM Act.
Friday morning, Trump posted a tweet that seems to indicate that he's ready to negotiate with Democrats when it comes to DACA. In the past, he's expressed sensitivity to those covered by the program. Friday's tweet said that there can be no DACA without a wall on the Mexican border and the strengthening of other immigration policies, and that Democrats understand this.
The Democrats have been told, and fully understand, that there can be no DACA without the desperately needed WALL at the Southern Border and an END to the horrible Chain Migration & ridiculous Lottery System of Immigration etc. We must protect our Country at all cost!

— Donald J. Trump (@realDonaldTrump) December 29, 2017
[Image via CNN screengrab]
Have a tip we should know? [email protected]