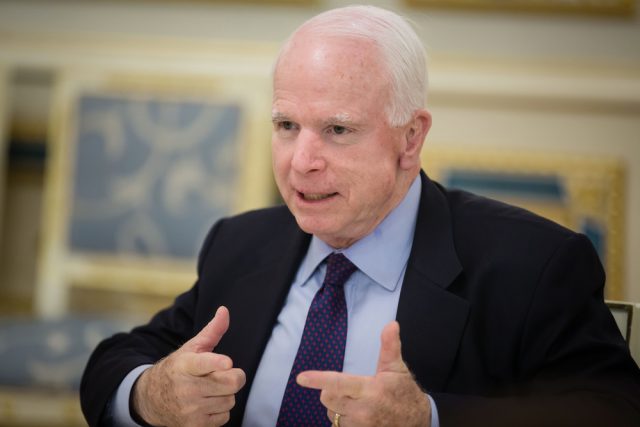 Senator John McCain (R-Arizona) will introduce a comprehensive immigration reform bill with a pathway to citizenship for "Dreamers," the recipients of the Deferred Action for Childhood Arrivals ("DACA") program. This legislation won't include funding for President Donald Trump's proposed border wall.
According to a report Monday in The Wall Street Journal, McCain and Senator Chris Coons (D-Delaware) are co-authoring the bill in a bid to secure bipartisan support for a DACA patch that would allow the program's 800,000 or so enrollees to continue living in the United States with legal immigration status.
The McCain-Coons proposal would be included as part of a last-minute spending bill, another of which is necessitated because the federal government will run out of money on paper this coming Friday.
The McCain-Coons language in the proposed spending bill would be limited to DACA recipients–again, roughly 800,000 individuals at present–and not the original definition of a Dreamer, which encompasses some 3.6 million individuals who were brought to the United States as children. This makes some sense because legislative and media focus has centered on the former category of undocumented immigrants, but likely wouldn't offer any closure longterm on the issue of the great majority of Dreamers as originally defined.
The bill would not only allow DACA-recipient Dreamers to remain in the United States with clean immigration statuses, but would also propose an eventual pathway to citizenship.
As a bit of a bone thrown to the GOP's nativist base, the McCain-Coons proposal also demands a comprehensive study on the most effective border-security measures that should be implemented in the near future.
Bypassing bordering wall funding for the establishment of a blue ribbon committee, however, would likely be viewed as a sop to anti-immigration groups and politicians, and could evidence a severe misreading of political tailwinds by McCain and Coons. As of this writing, the White House has already dismissed the bill in typical terms, telling Fox News on Monday afternoon "Walls work."
Still, McCain does command the respect of most of his colleagues and has often been seen as a key bridge between Democrats and Republicans on the issue of immigration, so the proposal may not be completely dead in the water.
There's an additional deadline looming right after the potential for another government shutdown. March 5 is the date DACA officially ends.
[image via Drop of Light and Shutterstock]
Follow Colin Kalmbacher on Twitter: @colinkalmbacher
Have a tip we should know? [email protected]