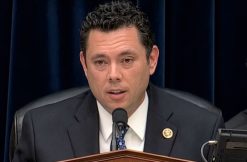 The Chairman of the House Oversight Committee demanded on Thursday an interview with the federal government's ethics watchdog over what he calls problematic behavior–and he included an implied threat to end the watchdog.
"The Committee's questions about blurring the line between public relations and official ethics guidance have resurfaced in the wake of OGE's communications with the incoming administration on ethics questions via Twitter and through the press," Rep. Jason Chaffetz (R-Utah) wrote to Walter M. Shaub, director of the U.S. Office of Government Ethics.
First, there's the Nov. 30 Twitter storm from the OGE's account. They sent out a slew of tweets in praise of President-elect Donald Trump's apparent plan to divest from his many business holdings. Here are examples.
.@realDonalTrump As we discussed with your counsel, divestiture is the way to resolve these conflicts.

— U.S. OGE (@OfficeGovEthics) November 30, 2016
.@realDonaldTrump Bravo! Only way to resolve these conflicts of interest is to divest . Good call!

— U.S. OGE (@OfficeGovEthics) November 30, 2016
That top tweet got Chaffetz's attention.
"It was not clear whether the tweets constituted official OGE guidance or something less formal," he wrote. "It is clear, however, the tweets' publicized discussions with the President-elect's counsel. The tweets also created the appearance that the OGE approved the President-elect's divestiture plan, which caused further confusion."
Chaffetz also criticized their public handling of former Secretary of State Hillary Clinton alleged failure to disclosure payment to the Clinton Foundation for speeches she and her husband made while she was top diplomat. Chaffetz claimed an OGE spokesman improperly commented on it as the organization itself actually did not investigate the matter.
"Your agency's mission is to provide clear ethics guidance, not engage in public relations," he wrote, and very casually mentioned that the Committee had the power to reauthorize the office (read: eliminate it altogether). Now he wants Shaub to speak with the Committee by Jan. 31. We've reached out to the Office of Government Ethics for comment.
Meredith McGehee, Strategic Adviser for The Campaign Legal Center, doesn't like what she sees.
"The Chaffetz letter raises two concerns," she told LawNewz.com. "First, there is an implied threat to the Office and its funding. That threat is unjustified. When OGE has been given an opportunity to work with those coming into the Trump Administration, they have worked out agreements. OGE is simply doing its job and shouldn't be punished for that. Second, summoning OGE Director Schaub to a closed-door hearing raises the specter of a star chamber inquisition. Given the controversy around President-elect Trump's decision to break with decades of precedent and abide by OGE guidance, if there ever was a time for transparency to boost public confidence, it is now."
This letter certain carries political ramifications. Shaub said on Wednesday that President-elect Donald Trump's plans to resolve personal conflicts-of-interest failed to meet the standards of full divestiture. Chaffetz's letter didn't mention this statement, however.
Click here for the full letter, obtained by The New York Times.
Update – Jan. 13, 2017: Added a statement from Meredith McGehee from the Campaign Legal Center. You can read it in the main body of the article.
[Screengrab via C-SPAN]
Have a tip we should know? [email protected]