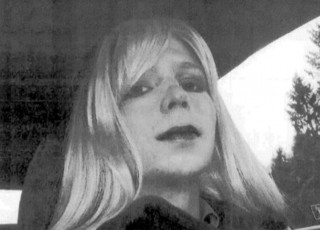 President Barack Obama has commuted the sentences of more prisoners than the past 11 Presidents combined. Now, Obama may be planning to shorten the prison term of Chelsea Manning, the former Army intelligence analyst who is serving a 35-year sentence for turning over classified information to WikiLeaks, according to an NBC News report.
Manning, who was born a man named Bradley and started to identify as a woman in public the day after her August 2013 sentencing, has been incarcerated in a men's facility. Manning has reportedly attempted suicide and gone on a hunger strike while seeking treatment for gender dysphoria while in prison. The ACLU and other groups sent a letter to the White House in December requesting commutation for Manning, and a petition on Whitehouse.gov received more than the 100,000 signatures needed for a required formal response.
According to a source at the Department of Justice who spoke to NBC News, the efforts are paying off, and Obama may make a decision as early as Wednesday.
"I have more hope right now than I have the entire time since she was sentenced," Deborah Manning, Chelsea's aunt, said to NBC News.
Manning's sentence is believed by many to be excessive. Past and present Army intelligence officials told NBC News that the information Manning revealed isn't nearly as harmful as what Edward Snowden leaked, and they believe Manning's sentence is unnecessarily harsh. Deborah Manning feels that Chelsea is paying the price for Snowden's actions, as Snowden has fled the country. "I really believe the judge felt she needed to send some sort of message," Deborah said. "I think in a way [Chelsea] was a scapegoat for Edward Snowden."
Snowden himself is advocating for Manning's release, tweeting his support Wednesday morning.
Mr. President, if you grant only one act of clemency as you exit the White House, please: free Chelsea Manning. You alone can save her life.

— Edward Snowden (@Snowden) January 11, 2017
Manning apologized to the court when she pleaded guilty to revealing approximately 700,000 military documents. "I'm sorry that my actions hurt people," she said. "I'm sorry that they hurt the United States."
Have a tip we should know? [email protected]