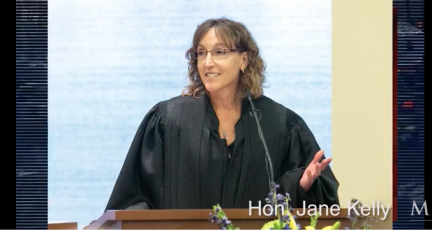 Jane L. Kelly—the newest name emerging from the selectively mum White House as a replacement for Justice Antonin Scalia. As LawNewz first reported in February, Kelly is rumored to be on the Obama Administration's shortlist as a successor to Scalia, who unexpectedly died in his sleep of natural causes at the age of 79.
The FBI is conducting background checks on the 51-year-old Indiana native as part of the routine vetting process all nominees are subjected to, according to an anonymous source close to the situation.
On Tuesday, LawNewz reported that Senate Majority Leader Mitch McConnell and Iowa Senator and Chairman of the Senate Judiciary Committee, Charles E. Grassley, visited the White House to inform President Obama that they have no intention of holding hearings on his Supreme Court pick, arguing that the task of filling the vacancy on the nation's highest court should be left to the next president. However, the Fulbright Scholar's nomination would put Senator Grassley in a precarious, if not hypocritical, political conundrum.
In 2013, Grassley profusely praised Kelly in a speech on the Senate floor. "She is well regarded in my home state of Iowa and so I'm pleased to support…the President's nomination of Ms. Kelly." Grassley also quoted now-retired Reagan appointee, Judge David R. Hansen of the Eighth Circuit, for whom Kelly clerked, as saying, "[s]he is a forthright woman of high integrity and honest character" and that she has an "exceptionally keen intellect."
A 1991 Harvard Law graduate and classmate of President Obama, Kelly is an Obama appointee who the Senate confirmed unanimously by a 96-0 vote. She currently serves on the United States Court of Appeals for the Eighth Circuit. Kelly has spent her career as a public defender, first as an assistant Federal Public Defender in the Northern District of Iowa in 1994, and later as the Supervising Attorney in the Cedar Rapids, Iowa office from 1999 to 2013 before becoming a Circuit Judge.
After Nevada Governor Brian Sandoval was floated as a possible Supreme Court nominee last week, the moderate Republican removed his name consideration for the Supreme Court. Kelly is the second such "leaked" name.
While serving as a public defender, Kelly was nearly beaten to death when an unidentified assailant came up behind her while she was jogging and smashed her head and face with a rock, leaving her brutally beaten and barely conscious.
If Kelly is appointed, she would become the fourth female justice on the Court and the third female justice—joining Sonia Sotomayor and Elena Kagan—appointed by President Obama.
[h/t NYTimes]
[Screengrab via MimesisLaw]
Have a tip we should know? [email protected]