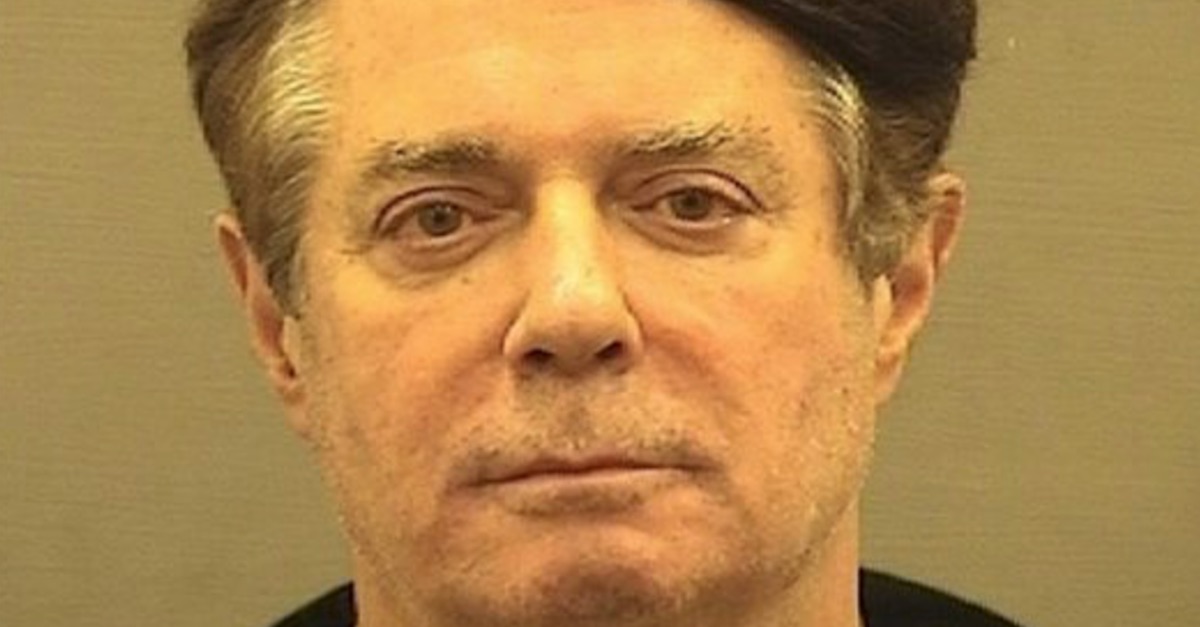 Convicted felon Paul Manafort has had enough of Washington, D.C. — so much so, apparently, that he doesn't want to attend pre-trial hearings for the upcoming foreign lobbying case against him.
In a notice and motion filed on Sunday by Manafort's attorneys, the defendant made clear that he does not wish to be transferred out of the Alexandria, Virginia jail where he currently awaits sentencing and other issues related to his recent trial and conviction there.
The two-page filing notes:
Paul J. Manafort, Jr., by and through counsel, hereby waives his right to appear in court other than for his trial and any potential sentencing and moves the Court for an order that he not be transported to court other than for his trial and any potential sentencing. Mr. Manafort, having been advised of his right to be present at all stages of the proceedings, agrees that his interests shall be represented at any pretrial proceedings by the presence of his attorneys.
The motion and notice was filed by most of Manafort's defense team from his aforementioned Alexandria-based trial in the Eastern District of Virginia. To wit, attorneys Kevin Downing, Thomas Zehnle and Richard Westling are all listed on the signature blocks. On August 21, Manafort was convicted on eight out of 18 charges against him and faces up to 80 years in prison on those convictions alone.
The defendant's Sunday filing isn't just an expression of the his wishes, it's also an affirmative request for U.S. District Judge Amy Berman Jackson to issue an order "that he not be transported to court other than for his trial and any potential sentencing."
If granted by Judge Jackson–who has signaled that she is amenable to the defendant's request–this means Manafort will almost certainly miss out on pre-trial evidentiary and jury questionnaire hearings scheduled for Tuesday in the U. S. District Court for the District of Columbia.
As noted by Courthouse News' Britain Eakin, those hearings are likely to focus heavily on Ukraine-related issues. Such issues were mostly given short-shrift during Manafort's first trial in Virginia, as U.S. District Judge T.S. Ellis III heavily circumscribed how prosecutors could try their case against Manafort on issues related to his foreign political work–even going so far as to ban the use of the word "oligarch" from the courtroom when the jury was around.
It's hard to envision if or how Jackson might issue such a prohibitory ruling in the present case.
Manafort's trial on seven separate charges related to his foreign lobbying work–and allegations of witness tampering from earlier this year–is scheduled to begin on September 17. He faces up to 20 years in prison on those charges.
[Image via Alexandria Detention Center]
Follow Colin Kalmbacher on Twitter: @colinkalmbacher
Have a tip we should know? [email protected]