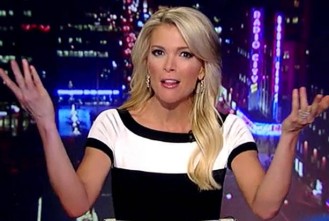 The (mostly one-sided) showdown between Donald Trump and Megyn Kelly continues to dominate the cable news headlines. Trump has called Kelly a "bimbo," "a lightweight reporter," and  a "third-rate" journalist. The name calling is not just limited to the Republican hopeful. Just this week, at least 423 twitter accounts tweeted at Megyn – calling her a bitch. 34 different accounts have targeted Kelly with the "c" word."
So we decided to do a little digging on the legal front. What we found? That Fox News Anchor Megyn Kelly is no bimbo in the legal or any other sense of the word. In fact, her law professor told LawNewz.com that she was brilliant and a rising star. A partner at her former high-profile law firm called her a legal "perfectionist."
Kelly earned a JD from Albany Law School in 1995 after piling on $100,000 in debt.
"She was an absolutely terrific student, thoughtful and based upon her academic abilities, I always thought she was going to be the next great female trial lawyer in the United States," Michael Hutter, Kelly's professor at the Albany Law School told LawNewz.com.
Kelly was in several of Hutter's classes including evidence.
"I think what's going on is ridiculous. Megyn has always been professional. She has never resorted to cheap shots," Hutter said.
Megyn went on to work as a law associate at Bickel & Brewer LLP (now known as Brewer Attorneys & Counselors). There she co-wrote an article for the prestigious American Bar Association Journal about the conflicting role of a lawyer who wants to sit on their client's board of directors.
"Megyn was a talented lawyer and a gifted advocate," said William Brewer, a partner at Brewer, Attorneys & Counselors. "Even in the early days of her career, you could tell she was going to be successful in anything she chose to do."
After her stint there, Kelly accepted a competitive job as an associate at the well-respected Jones Day law firm. There, she worked in the firm's litigation practice in three different cities. She defended some big time clients like Experian. Greg Castanias, a partner at the firm, told LawNewz.com that he oversaw Megyn's work.
"I knew that I would not have to wake up at night worrying — which is basically the gold standard of what an associate needs to do — keep a partner from waking up in the middle of the night worrying," Castanias told LawNewz.com
"She was intense and a perfectionist. Her written work was extremely careful, and well-written. She had an instinct for litigation which was ahead of her years of practice," he said.
As for the current controversy with Trump, attorneys who we spoke to both on and off the record say there is absolutely no merit to the accusation that she is substandard.
"It would be very hard to suggest to the world that Megyn is any sort of lightweight. The word 'bimbo' I won't even honor it by commenting on that," Castanias said.
[screenshot via Fox News]
Have a tip we should know? [email protected]
Rachel Stockman - President / On Air Host