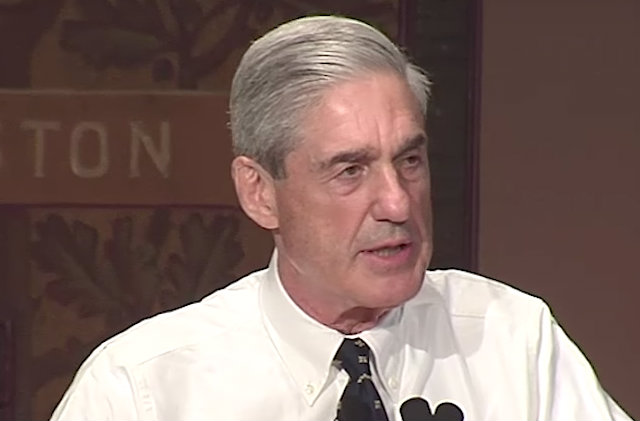 On Thursday, conservative watchdog group Judicial Watch says it sued the Department of Justice to find out how much money is being spent on Special Counsel Robert Mueller's investigation into Russian interference in the 2016 election. Specifically, they want 1) the budget Mueller or his staff submitted, covering the day he was appointed up to July 10; 2) a copy of all guidance memoranda and communications to review the special counsel's "Statement of Expenditures"; and 3) a copy of documents "scoping, regulating, or governing" Mueller's office. This Freedom of Information Action lawsuit comes after Judicial Watch filed a FOIA request, they said.
From the lawsuit:
As of the date of this Complaint, Defendant has failed to: (i) produce the requested records or demonstrate that the requested records are lawfully exempt from production; (ii) notify Plaintiff of the scope of any responsive records Defendant intends to produce or withhold and the reasons for any withholdings; or (iii) inform Plaintiff that it may appeal any adequately specific, adverse determination.
The Washington Post reported in July that Mueller had submitted his proposed budget to the DOJ, who wouldn't make it public. Peter Carr, a spokesman for the special counsel's office, told the outlet that there will be reports on the team's spending every six months. This means they would only make available what the team already spent, not what Mueller believes is necessary to spend.
The press office for Mueller's investigation declined to comment when Law Newz reached out.
Mueller, a former FBI Director who was appointed in May to become special counsel by Deputy Attorney General Rod Rosenstein, is leading an investigation into Russian interference in the 2016 election–U.S. Intelligence Officials the Kremlin preferred Donald Trump to Democratic Party nominee Hillary Clinton. As part of this probe, Mueller and his team are looking into whether the Trump campaign helped out. President Trump has called the investigation a political "witch hunt."
Update – October 5, 10:02 p.m: The special counsel's press office responded to Law Newz's request for comment.
[Screengrab via Georgetown University]
Have a tip we should know? [email protected]