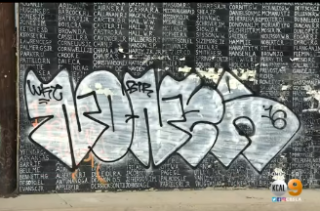 A Vietnam War memorial was vandalized before Memorial Day weekend, KCAL reported. The memorial, a wall bearing the names of soldiers listed as missing in action in the Vietnam War, was found covered in graffiti. There are 2,273 names on the memorial, as well as the phrase "You are not forgotten," which was covered by the spray paint, according to KABC. This is not the first time the monument has been the target of vandalism.
Vice President of the Venice Chamber of Commerce George Francisco told KCAL, "It's a desecration. I mean it's very simple. There's no sort of other way around it." Francisco also runs the Veterans Foundation Incorporated nonprofit group. His father having served in the war, Francisco added, "I've known the sacrifices these people made in an incredibly unpopular war. So to continue the mistreatment of Vietnam veterans is somewhat shocking, somewhat shocking and quite sad."
People in the neighborhood told KCAL that the vandalism was first noticed earlier last week. The Los Angeles County Sheriff's Department is investigating.
Have a tip we should know? [email protected]