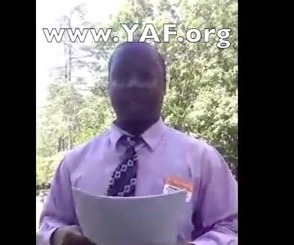 This time instead of a squabble over safe spaces, the campus fight at Clemson University is over designated "free speech areas." Yes, apparently universities now have such spots. Last week, a man was reportedly sitting on campus praying with an empty chair that had a sign on it that said "prayer." Kyra Palange, a student, saw him, and decided to join in. The two prayed together for about five minutes or so. She recorded what happened next when a Clemson official approached them.
"We have designated areas on campus, with him not being a student or faculty or staff, he has to go through the proper channels. This is not a designated free speech area," the official can be heard saying in the video.
"And by that you mean that there are free speech areas and the entire campus is not a free speech area?" Palange asked.
"That is correct," the Clemson official said.
"I had heard about these things happening on other campuses. I had never heard about it happening at Clemson, and so I was kind of surprised and dismayed that something like that would happen here," Palange told the local television station. "Anytime you say we have a designated area where you can express your opinions and express free speech, by default you're saying that there are other areas that you can't." Palange believes this is a violation of the First Amendment, though she does note that the official gave the man the forms so he could reserve a proper spot. Officials also said they allowed the man to continue to pray without his sign.
"This really isn't about prayer as much as it is about us being consistent in how we let the external community use our facilities," Mark Land, vice president of University Relations told WYFF. "Had he just chosen to pray on his own without actually having signs that ask people to join him, he could have prayed anywhere on campus essentially as long as he wanted."
The school released a statement that said in part: "Clemson University supports the rights of students, faculty and staff of all religious faiths to express their beliefs on our campuses. Religious expression occurs regularly at Clemson, including in the many religious-based student organizations recognized by the university." But, the school says that individuals who are not affiliated with the university must be "held in a manner that is consistent with the university's policies."
Have a tip we should know? [email protected]
Rachel Stockman - President / On Air Host