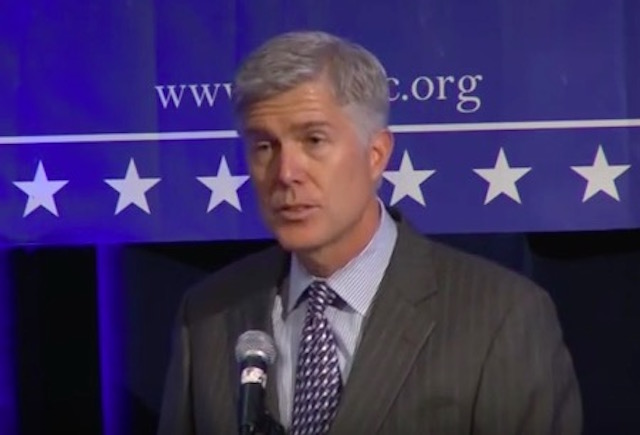 Several reports are now indicating that Judge Neil Gorsuch has emerged as the top contender for President Trump's first Supreme Court nomination to fill the spot of the late Justice Antonin Scalia. Gorsuch, who is highly respected in conservative circles, is best known for upholding religious rights in court battles involving the Affordable Health Care Act (aka Obamacare).
Gorsuch, 49, is a judge on the 10th Circuit Court of Appeals where he was nominated by President George W. Bush in 2006.  According to an academic paper called "Searching for Justice Scalia: Measuring the 'Scalia-ness' of the Next Potential Member of the U.S. Supreme Court, Gorsuch ranks pretty high in several categories including "originalism" which was one of Scalia's core beliefs. Gorsuch earned his J.D. at Harvard Law School, and went on to study legal philosophy at Oxford University. He served as a clerk for U.S. Supreme Court Justices Byron White and Anthony Kennedy from 1993–1994.
Like Scalia, Gorsuch has gained notoriety for his lively judicial writing style. Eric Citron, who writes for SCOTUSblog, described the "downright eerie" similarities between Gorsuch and Scalia:
Gorsuch's opinions are exceptionally clear and routinely entertaining; he is an unusual pleasure to read, and it is always plain exactly what he thinks and why. Like Scalia, Gorsuch also seems to have a set of judicial/ideological commitments apart from his personal policy preferences that drive his decision-making. He is an ardent textualist (like Scalia); he believes criminal laws should be clear and interpreted in favor of defendants even if that hurts government prosecutions (like Scalia); he is skeptical of efforts to purge religious expression from public spaces (like Scalia); he is highly dubious of legislative history (like Scalia); and he is less than enamored of the dormant commerce clause (like Scalia). In fact, some of the parallels can be downright eerie.
An announcement on Trump's pick could come as soon as early next week.
[Screengrab via Federalist Society]
Have a tip we should know? [email protected]
Rachel Stockman - President / On Air Host