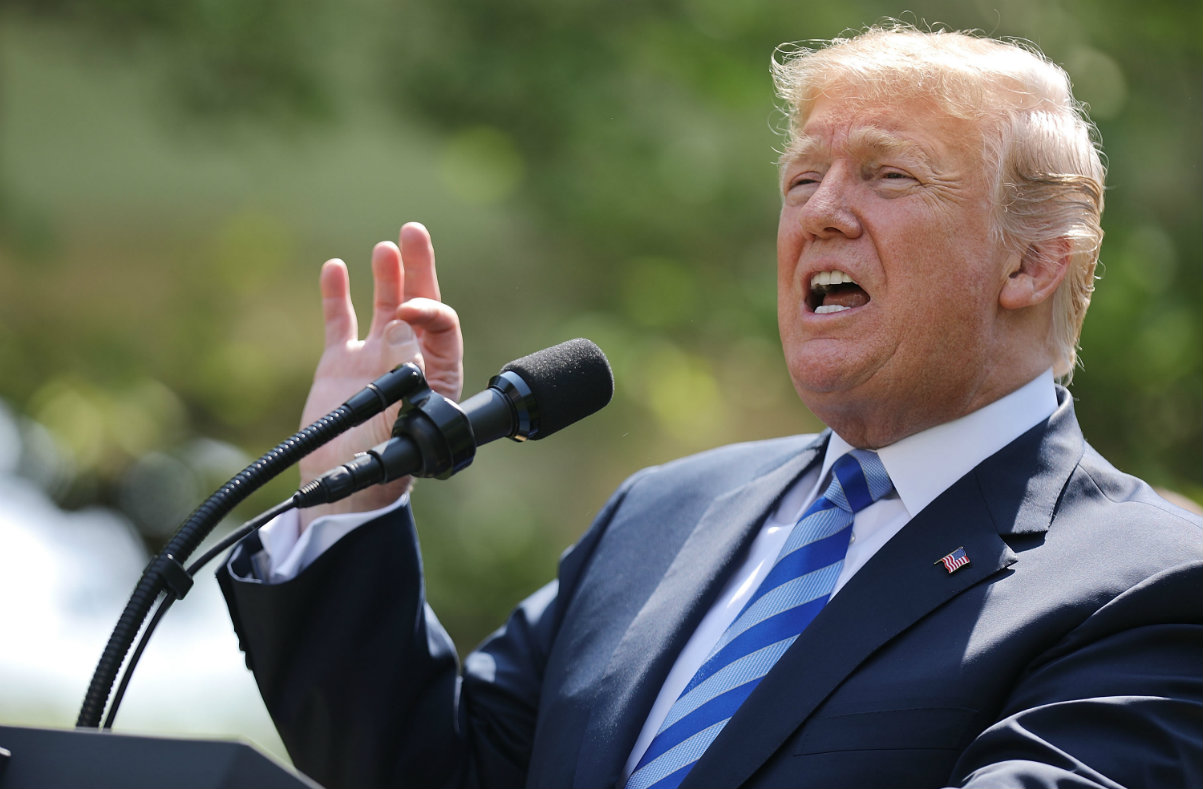 On Sunday, President Donald Trump said he's going to formally tell the Department of Justice to probe itself and the Federal Bureau of Investigation over an FBI informant sent to speak to his campaign advisers. Some legal and political analysts suggest agency honchos might lose their jobs before this order is carried out.
I hereby demand, and will do so officially tomorrow, that the Department of Justice look into whether or not the FBI/DOJ infiltrated or surveilled the Trump Campaign for Political Purposes – and if any such demands or requests were made by people within the Obama Administration!

— Donald J. Trump (@realDonaldTrump) May 20, 2018
This is a follow up on this tweet on Friday: " Reports are there was indeed at least one FBI representative implanted, for political purposes, into my campaign for president." A New York Times report followed up. According to sources, an American academic did work as an FBI informant to speak to two campaign advisers, George Papadopoulos and Carter Page, after the FBI received evidence those two had suspicious communications with Russians.
DOJ Director of Public Affairs Sarah Isgur Flores declined to comment when Law&Crime reached out for a statement. Some on Twitter said this new Trump tweet fails bodes badly for high-ranking federal law enforcement.
Here's Professor Stephen I. Vladeck, who teaches constitutional law over at the University of Texas School of Law:
If @realDonaldTrump follows through on this ridiculousness, then we're likely days away from another Saturday Night Massacre…

Maybe _now_ is a good time for Congress to pass legislation that would prevent #Mueller from being fired without good cause?:https://t.co/UcFwvMHL14 https://t.co/zyVcoBjyt3

— Steve Vladeck (@steve_vladeck) May 20, 2018
Then there's Lawfare's Benjamin Wittes, a friend of fired FBI Director James Comey. It's old news to say he dislikes the president.
"I normally ignore presidential tweets," he wrote in a thread Sunday afternoon. "This one requires attention, because it could genuinely produce a crisis with the Justice Department and the FBI."
Wittes said the president has the constitutional authority to make this demands, but it would still be too much for Attorney General Jeff Sessions (who recused himself from the Russia probe), Deputy Attorney General Rod Rosenstein, and FBI Director Christopher Wray. He argued that neither of the three "can in good conscience comply with such an order." Wittes called the president's demand a "nakedly corrupt attempt" to derail a probe of himself at the expense of the source, and he suggested that both Rosenstein and Wray will resign rather than follow the order.
"In other words, this tweet is different from other Trump craziness tweets," he wrote. "It's one that promises a specific action on a specific date (tomorrow) with respect to a specific agency that will, if it takes place, precipitate a showdown."
[Image via Chip Somodevilla/Getty Images]
Have a tip we should know? [email protected]