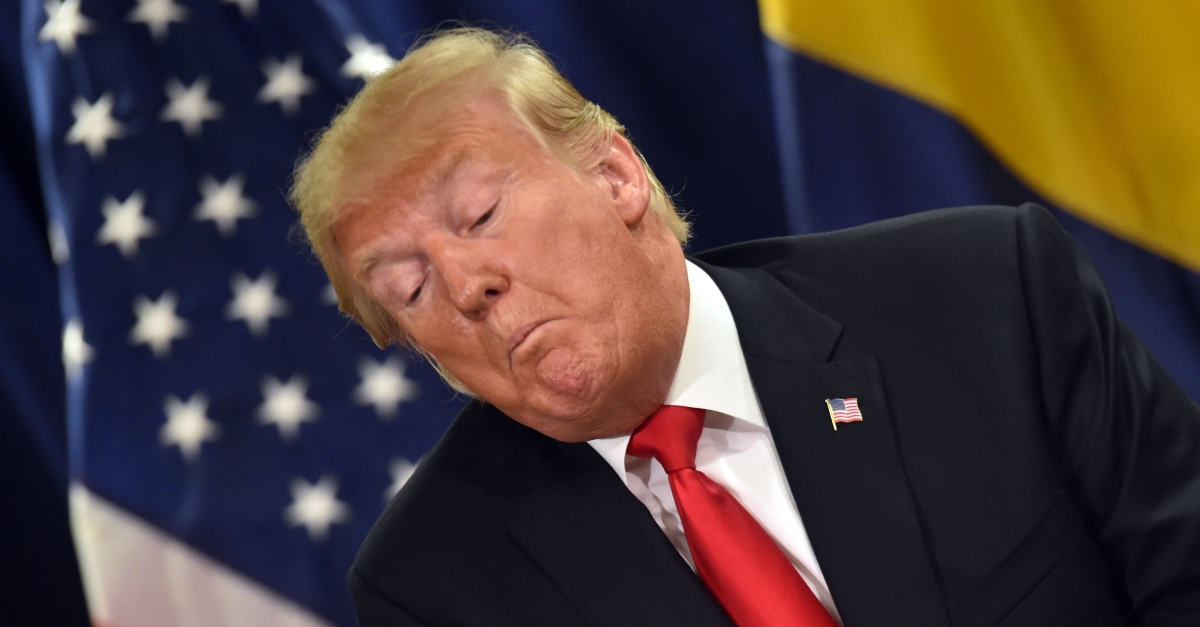 President Donald Trump said he would pardon current acting head of the Department of Homeland Security if he ended up in jail for illegally blocking asylum-seekers, according to a new CNN report citing two unnamed senior Trump Administration officials.
BREAKING: In Calexico, CA last week, where POTUS told border agents to block asylum-seekers from entering the US contrary to law, Trump told CBP head McAleenan if he were sent to jail as a result, the president would pardon him, 2 Sr admin officials tell me.

More on @CNN…

— Jake Tapper (@jaketapper) April 12, 2019
A DHS spokesperson denied that POTUS ever pushed acting Homeland Security head Kevin McAleenan to do anything illegal.
3/ "…Nor would the Acting Secretary take actions that are not in accordance with our responsibility to enforce the law."

— Jake Tapper (@jaketapper) April 12, 2019
It's no secret that the president's 2016 campaign platform pushed for a crackdown on undocumented immigrants coming to the U.S. from Mexico, but that hardline stance has hit a wall, namely legal application for asylum at U.S. ports of entry. The administration is appealing a federal ruling that stopped them from returning asylum seekers to Mexico, pending their cases.
The White House did not immediately respond to a Law&Crime request for comment.
Meanwhile, Richard W. Painter, a Trump critic and former ethics lawyer in the George W. Bush White House, argued that this alleged pardon dangling "is an impeachable offense."
Telling someone to commit a crime and promising a pardon if he does is an impeachable offense.

Trump told CBP head he'd pardon him if he were sent to jail for violating immigration law @CNN https://t.co/37H6hcWI4o

— Richard W. Painter (@RWPUSA) April 12, 2019
Articles from CNN and The New York Times on Sunday said that former DHS Secretary Kirstjen Nielsen butted heads with the president over illegal proposals to stop migrants. This reportedly included blocking people from seeking asylum.
Trump is pushing hard behind the scenes to clamp down on immigration, even using it as a political weapon against Democrats. He confirmed a Washington Post report that said the White House proposed releasing immigrant detainees to sanctuary cities. The president implied on Friday that this move, if implemented, would hurt quality of life in those areas.
….The Radical Left always seems to have an Open Borders, Open Arms policy – so this should make them very happy!

— Donald J. Trump (@realDonaldTrump) April 12, 2019
[Image via ICHOLAS KAMM/AFP/Getty Images]
Have a tip we should know? [email protected]