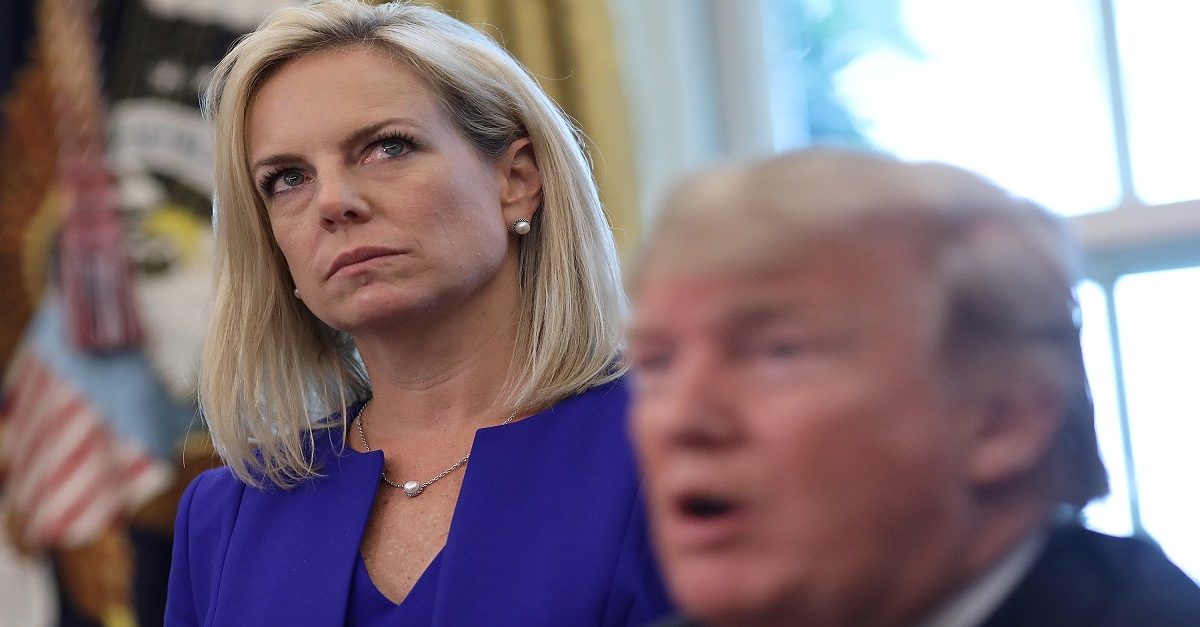 Department of Homeland Security Secretary Kirstjen Nielsen resigned Sunday, and it reportedly comes after a bad working relationship with President Donald Trump. Here's the detail from The New York Times:
The president berated Ms. Nielsen regularly, calling her at home early in the mornings to demand that she take action to stop migrants from entering the country, including doing things that were clearly illegal, like blocking all migrants from seeking asylum. She repeatedly noted the limitations imposed on her department by federal laws, court settlements and international obligations.
In other words, she didn't go far enough for his liking. CNN reporting backed up the idea that Trump pushed Nielsen to go outside the law.
2/ Secretary Nielsen "believed the situation was becoming untenable with the President becoming increasingly unhinged about the border crisis and making unreasonable and even impossible requests," a senior administration official tells CNN.

— Jake Tapper (@jaketapper) April 7, 2019
Nielsen stepped down after a scheduled meeting Sunday afternoon. She set it up with Trump to establish "a way forward" in planning border policy, and discussing her role, but it ended with her resigning, three sources said in the Times report. Nielsen stepped down because the president pushed her to, according to a source for CNN.
Nielsen oversaw an infamous child separation established last year. This won her few, if any fans among the president's critics, but some high-profile Trump supporters cheered her departure because they thought she was too soft on addressing undocumented immigration and asylum seekers.
Hallelujah! Secretary Nielsen has resigned!

— Ann Coulter (@AnnCoulter) April 7, 2019
Great move by @realDonaldTrump to take her resignation today. She never shared his border security vision. @DHSgov

— David A. Clarke, Jr. (@SheriffClarke) April 7, 2019
Trump announced that U.S. Customs and Border Protection Commissioner Kevin McAleenan will take over as acting secretary.
Update – Monday, April 8, 2019, 12:01 a.m.: Nielsen said that she would stay on the job through Wednesday.
I have agreed to stay on as Secretary through Wednesday, April 10th to assist with an orderly transition and ensure that key DHS missions are not impacted.

— Sec. Kirstjen Nielsen (@SecNielsen) April 8, 2019
[Image via Win McNamee/Getty Images]
Have a tip we should know? [email protected]