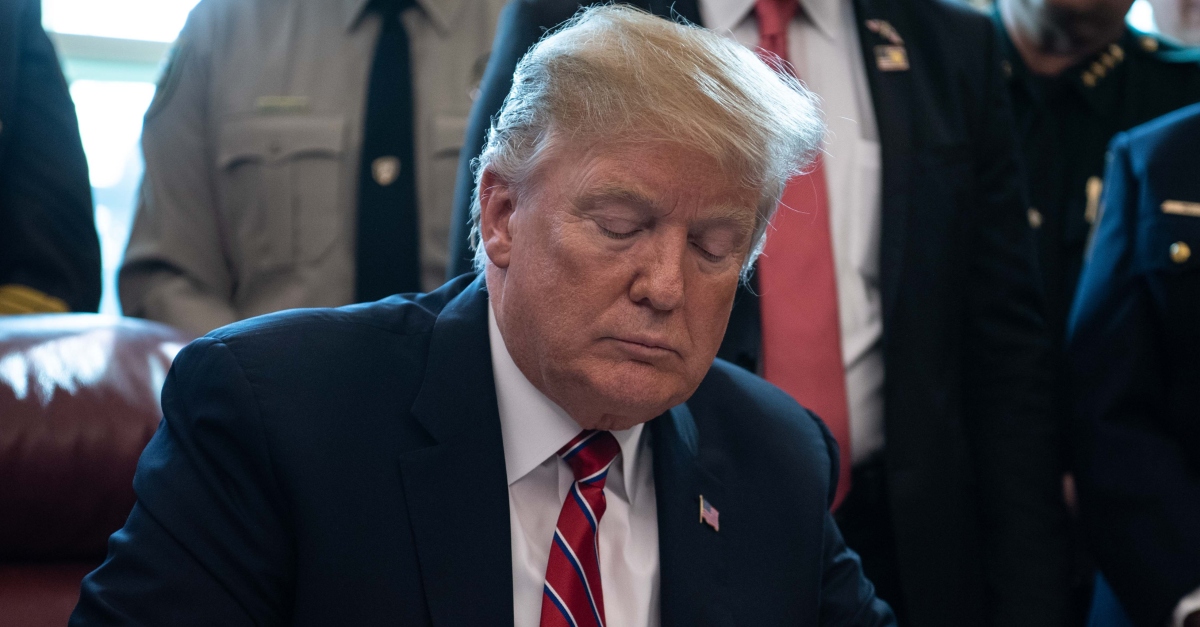 An attorney representing President Donald Trump reached out to the Treasury Department about House Democrats' attempt to obtain the president's tax returns from the IRS. Lawyer William Consovoy wrote in a letter to Treasury General Counsel Brent McIntosh on Friday that if House Ways and Means Committee Chairman Richard Neal (D-Mass.) gets his way, it would send the country down an extremely slippery slope.
"If the IRS acquiesces to Chairman Neal's request, it would set a dangerous precedent," Consovoy said, according to the Wall Street Journal.  "Once this Pandora's box is opened, the ensuing tit-for-tat will do lasting damage to our nation."
Neal asked for Trump's personal and business tax returns covering the last six years. Ever since he was running for president in 2016, Trump has claimed that he would not release his tax returns because he is under audit. Neal also asked for information related to any such audits.
Just because Neal asked, that does not mean the IRS must comply. In order to obtain someone's tax returns, a congressional committee must show a legislative purpose for the request. The 1957 Supreme Court decision in Watkins v. United States said, "there is no congressional power to expose for the sake of exposure."  University of Iowa Law Professor Andy Grewal wrote in a February 2017 post for Yale's Notice & Comment blog that this means "a request for President Trump's tax returns, if made for purely political purposes, may exceed legislative powers."
More recently, Grewal told Law&Crime he was skeptical of Neal's request.
"Neal states that the committee must determine whether the IRS audits Presidents. It seems doubtful that the committee needs all of a President's tax returns to make that determination," Grewal said. "Rather, the committee would be on firmer ground if it asked for documentation confirming that audit processes were followed or asked to speak to officials who oversee the audit process."
If the IRS doesn't believe Neal's reasoning behind the request is good enough, Democrats could take the matter to court.
Neal has been criticized over the last couple of days for not releasing his own tax returns, but he said he would do so "down the road." "[S]ure, that's nothing," he said, adding "I've done that in the past, by the way." The Washington Times reported, however, that Neal's office didn't specify when he did, pointing out that "a Roll Call survey in 2017 found no record of a previous release of his tax returns."
Charles Rettig is Trump's IRS commissioner. Retting, a Beverly Hills tax lawyer, once wrote that there wasn't a legal impediment to Trump publicly releasing his tax returns. Trump has claimed he cannot because they are under audit. Fully aware of this, Rettig also wrote, "Would any experienced tax lawyer representing Trump in an IRS audit advise him to publicly release his tax returns during the audit? Absolutely not."
Neal has set the deadline to comply for April 10.
[Image via Nicholas Kamm/AFP/Getty Images]
Have a tip we should know? [email protected]