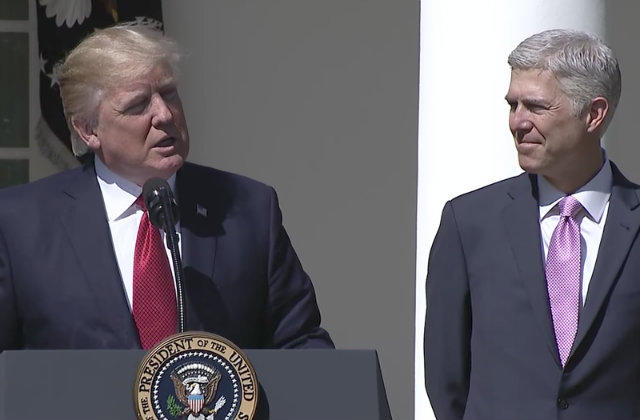 The White House announced Sunday that President Donald Trump will have dinner Thursday with the U.S. Supreme Court.
Trump dining with Supreme Court justices on Thursday, per White House pool report pic.twitter.com/ApgPxdi0ex

— Lawrence Hurley (@lawrencehurley) April 23, 2017
"That evening, the President will have dinner with the Justices of the Supreme Court, including his successfully confirmed nominee Justice Neil Gorsuch," the announcement read.
Judging by the wording, it seems like all nine are expected show up, though this remains unclear. What they'll talk about also remains unclear. We've reached out to the White House for comment.
All eyes will be on Trump and the Court in the upcoming years since he has the chance to transform it for decades by adding more conservative jurists. Three seats may plausibly open up as he remains in office. Two liberals, Ruth Bader Ginsberg and Stephen Breyer, are 84 and 78. A third, noted-swing voter Anthony Kennedy, is 80 and rumored to be thinking about retirement. The next youngest justice, conservative Clarence Thomas, is only 68. For comparison's sake, Antonin Scalia, who passed away in February 2016, was 79.
Whatever happens, Gorsuch will be there to see it. He is 49, and will expectedly sit on the court for decades.
[Screengrab from Gorsuch's April 2017 swearing-in ceremony via White House]
Have a tip we should know? [email protected]