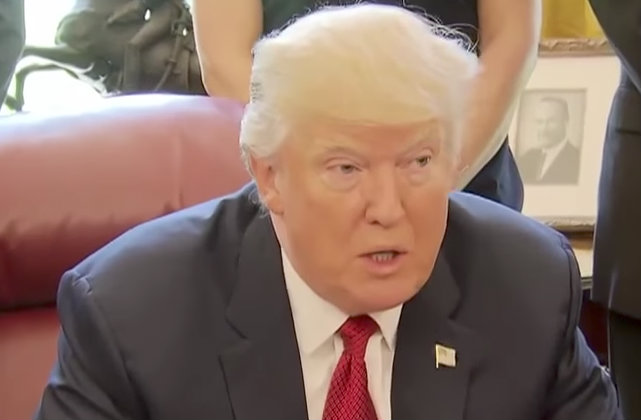 As a matter of course, campaign promises change, but Donald Trump insists he's sticking to this one: building a wall along the US-Mexico border. But Americans will have to foot the bill, at least for now.
The Democrats don't want money from budget going to border wall despite the fact that it will stop drugs and very bad MS 13 gang members.

— Donald J. Trump (@realDonaldTrump) April 23, 2017
Eventually, but at a later date so we can get started early, Mexico will be paying, in some form, for the badly needed border wall.

— Donald J. Trump (@realDonaldTrump) April 23, 2017
This comes amidst talk that starting the wall could lead to a shutdown in Congress. Lawmakers have to implement a spending bill by Friday, but funding that controversial project could prevent passage. Attorney General Jeff Sessions said on Sunday's This Week that the project will get funded. Secretary of Homeland Security John Kelly told CNN that the president will be "insistent" on lawmakers including funding.
Trump ran on a hardline immigration policy. He insists the Mexican government would pay for the wall, and this proposal symbolized his campaign. However, he shifted priorities after winning the presidency, saying that taxpayers will initially fund the wall, and that Mexico will pay later. Sunday's tweets maintained that pitch.
House minority leader Nancy Pelosi (D-California) told Meet the Press on Friday that she'll resist efforts to build, never mind fund, the wall.
"When the president says, 'Well I promised a wall during my campaign,' I don't think he said he was going to pass billions of dollars of cost of the wall onto the taxpayer," she said.
Despite numerous proposals, there is no active plan to make the Mexican government pay for the wall.
[Screengrab ]
Have a tip we should know? [email protected]