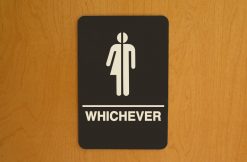 Starting on March 1, 2017, government offices, businesses, and public accommodation spaces in California must make their single-stall restrooms gender neutral. Democratic Gov. Jerry Brown signed the bill on Thursday, and it was announced by state assemblyman Phil Ting (D-San Francisco) in a statement.
"California is charting a new course for equality," said Ting, author of Assembly Bill 1732. "Restricting access to single-user restrooms by gender defies common sense and disproportionately burdens the LGBT community, women, and parents or caretakers of dependents of the opposite gender. Bathroom access is a biological need. This law will ensure more safety, fairness, and convenience access for everyone."
It's another move in the nationwide debate over gender, restrooms, and public spaces. The California is decidedly pro-trans while other states have different paths. Most famously, North Carolina passed House Bill 2 in March. It requires that when people use government-run restrooms, they must use the ones that match the sex on their birth certificate, even if they are transgender.
[image via John Arehart and Shutterstock]
–
Follow Alberto Luperon on Twitter (@Alberto Luperon)
Have a tip we should know? [email protected]