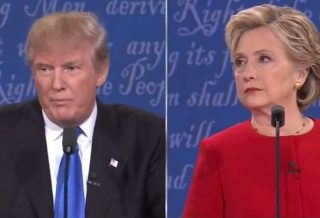 Over the past several months, we've seen a shift in attitude from Donald Trump regarding Hillary Clinton. During his campaign, he vowed to go after Clinton for her private email server, riling crowds at his rallies into chanting "Lock her up!" After he won the election, Trump backed off from that completely, saying that he no longer intends to push for criminal charges against his former opponent. Now, the very Justice Department that Trump called on to prosecute Clinton in 2016 may have to answer for her actions in 2017.
Even if the criminal investigation of Clinton is over, the former Secretary of State is still dealing with civil lawsuits related to her private email use. Watchdog groups like Judicial Watch have brought the fight to Clinton by suing the U.S. State Department over their handling of records and the former Secretary's emails.
Judicial Watch sued current Secretary of State John Kerry in 2015, claiming his office did not comply with the Federal Records Act by not taking sufficient action in recovering and turning over Clinton's emails. That case had been dismissed, but an appellate court recently reversed that decision, reviving it. Trump's administration will now be tasked with defending the State Department's handling of Clinton's emails, and their decisions regarding turning them over to the public in response to Freedom of Information Act requests.
So Trump has gone from harshly criticizing Clinton's email use and calling for criminal charges against her, to saying he's no longer interested in the matter, to now being about to assume the position of heading the government which is still defending a State Department that's wrapped up in the scandal.
But what kind of defense will it be? With Jeff Sessions running the Justice Department as Attorney General, what side will he be on? Will he vigorously defend the State Department, as a government official would be expected to do, or will he throw the Department under the bus for what they did during President Obama's administration? Only time will tell, but Judicial Watch President Tom Fitton does not expect the government to have a new approach under the new administration. This would mean that the federal government would treat the Clinton email case the same under President Trump as they did under President Obama.
"Not much will change," Fitton told LawNewz.com. He said that his hope would be for the State Department to have greater transparency and for the Justice Department to "enforce FOIA rather than defend" agencies who don't abide by it, but he is not optimistic. As of late June, there were roughly 29,000 backlogged FOIA requests, although it was unclear how many had to do with Clinton.
Despite believing that change was unlikely, Fitton acknowledged the unpredictable nature of the President-elect. "Since it's Donald Trump," he said, "we might be surprised."
Have a tip we should know? [email protected]