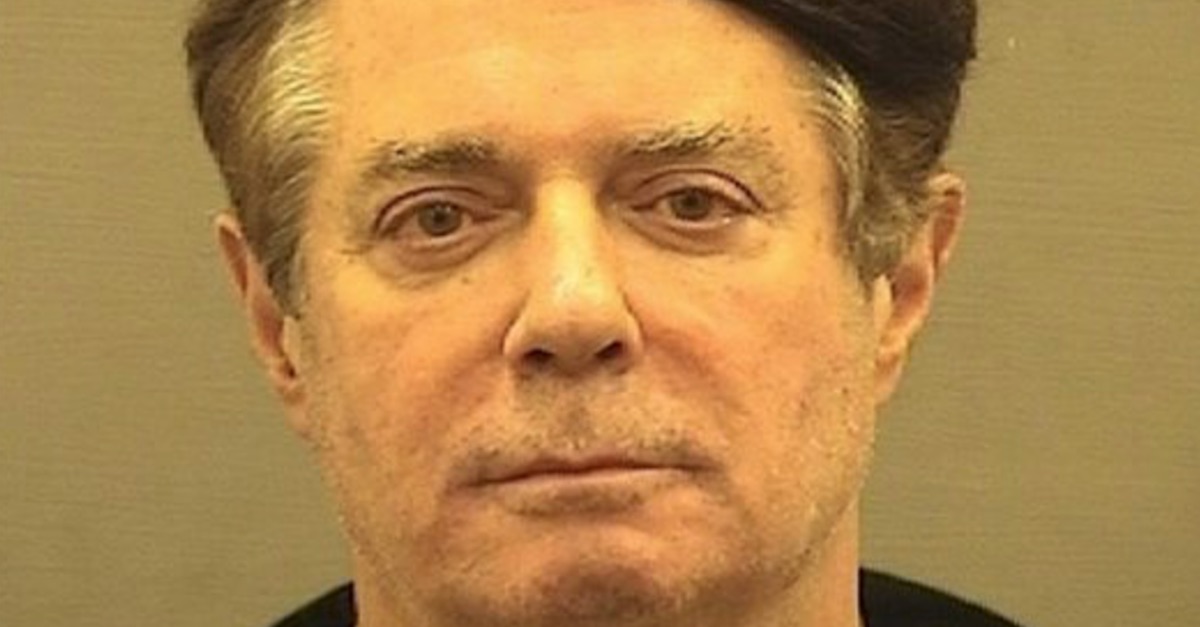 Star Robert Mueller witness Rick Gates alleged on Tuesday that Paul Manafort requested a line to the Trump Administration, a guest list to President Donald Trump's inauguration and was involved in email chains discussing potential Trump campaign job opportunities.
Manafort and President Trump have repeatedly said that the bank and tax fraud charges are completely unconnected to the Trump campaign and that there should have been no indictment as part of the Mueller probe.
Law&Crime's Colin Kalmbacher, on the ground reporting at the Eastern District of Virginia court during Manafort's trial, said the Trump campaign has been referenced by name during Manafort's trial for the first time. All previous references were to "a presidential campaign."
Additional details coming in from the courtroom suggest why this occurred.
On Tuesday, an economic advisory council-related email chain mentioning Stephen Calk was discussed in court. Prosecutors said Manafort wrote in an email chain Gates was included in, "We need to discuss SC for Secretary of Army."
Calk eventually did get a spot on Trump's economic advisory council during the 2016 campaign, as American Banker reported, but there were some questions raised about how the CEO of the Federal Savings Bank in Chicago was named to this position in August 2016.
Manafort left the Trump campaign that same month but Gates stayed on. Prosecutors appear to be mentioning Calk in the context of the campaign because of a possible pay-to-play scenario. Calk doled out a $9.5 million mortgage to Manafort despite risks and was rewarded. Prosecutors alleged that this was due to Calk's ambition.
Calk is believed to be "Lender D" identified in court filings because "Lender D" was previously identified as The Federal Savings Bank — his bank.
Some quotes from Mueller's team in July:
"The government intends to present evidence that although various Lender D employees identified serious issues with the defendant's loan application, the senior executive at Lender D interceded in the process and approved the loan."

"[Lender D] expressed interest in working on the Trump campaign, told [Manafort]  about his interest, and eventually secured a position advising the Trump campaign."

"[He] expressed an interest in serving in the administration of President Trump, but did not secure such a position."

"Here, it would be difficult for the jury to understand why the loans were approved without understanding that the lender approved the loans, in spite of the identified deficiencies, because the senior executive factored in his own personal ambition."
The news comes one day after another first for the Mueller investigation.
Gates became the first senior Trump campaign official to admit on a witness stand that he committed crimes.
Prosecutor: "Were you involved in any criminal activity with Mr. Manafort?"

Gates: "Yes."

Prosecutor: "Did you commit any crimes with Mr. Manafort?"

Gates: "Yes."
Gates claimed he and Manafort had 15 foreign accounts they never reported to the government and that Manafort directed him to not submit necessary forms.
Gates and Manafort have a long history of working together going back to the '90s, when Gates was an intern. Fast forward 20 years, and they were doing political consulting work together in Ukraine.
This isn't the only trial Manafort has on his schedule. A separate Washington, D.C. trial is scheduled to begin in September.
Although Mueller's powers in this tax and bank fraud case were questioned by Judge T.S. Ellis III, he eventually ruled that Mueller was acting within the scope of his investigation by pursuing these charges against Manafort, despite challenges that the charges were unrelated to the Trump campaign.
Colin Kalmbacher contributed to this report from the courthouse. 
[Image via Alexandria Detention Center]
Have a tip we should know? [email protected]