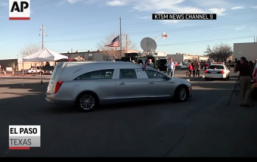 Houston businessman John Poindexter, owner of the Cibolo Creek Ranch, is speaking out amidst reports of confusion surrounding the death of Justice Antonin Scalia on Saturday at the West Texas luxury ranch.
In an interview with the San Antonio Express-News, Poindexter, 71, said Justice Scalia arrived at the ranch on Friday as part of a group of approximately three dozen invited guests for a weekend of hunting and relaxation in the vast outdoors of the 30,000 acre ranch.  "There were no speeches. He wasn't asked any hard questions, it was all about the outdoors and Texas, and what it's like to being a Supreme Court Justice," he told the paper.
The ranch owner said Justice Scalia was "animated and engaged" during the group dinner on Friday night and nothing seemed out of the ordinary.  "He was seated near me and I had a chance to observe him. He was very entertaining. But about 9 p.m. he said, 'it's been a long day and a long week, I want to get some sleep," Poindexter said.
When Justice Scalia did not show up to breakfast the following morning and failed to respond to multiple wakeup calls, Poindexter told the paper that he and another guest who arrived with Justice Scalia from Washington, D.C., decided to enter Scalia's room at approximately 11:30 on Saturday morning.
Describing what he saw when they entered the room, Poindexter said, "We discovered the judge in bed, a pillow over his head. His bed clothes were unwrinkled.  He was lying very restfully. It looked like he had not quite awakened from a nap."  Poindexter said he checked for a pulse but did not find one and that the body was already cold to the touch.  He then contacted federal authorities, according to the report.
What happened next is a source of confusion, according to a report in the Washington Post.  Due to the event happening on a weekend and the ranch's remote location, it took several hours to locate a justice of the peace.  When authorities were able to locate a justice of the peace, Presidio County Judge Cinderela Guevara, she pronounced Justice Scalia dead over the phone without viewing the body and without ordering an autopsy.  The newspaper also reported that the U.S. Marshals Service, which provides security for federal judges, issued a statement that said Scalia had declined a security detail, so Deputy U.S. Marshals from the Western District of Texas had to be flown to the scene by helicopter.
Texas law does allow a justice of the peace to make a cause of death determination without viewing the body and without an autopsy.  However, at least one other Presidio County, TX justice of the peace, Juanita Bishop, told the Washington Post if had it been her decision, she would've ordered an autopsy under these circumstances.
Guevara defended her decision, telling the newspaper that she spoke with U.S. Marshals on the scene who assured her there were no signs of foul play and she spoke with Scalia's personal physician who told her he suffered from various chronic ailments.  She also clarified his cause of death as "natural causes" and not from a "heart attack" as some outlets reported on Sunday.
Justice Scalia's body was removed from the ranch late Saturday evening and taken by hearse to a funeral home where it will be prepared for burial and returned to Washington, D.C.  Scalia's family did not request a private autopsy.
[image via screengrab]
Have a tip we should know? [email protected]